2 reports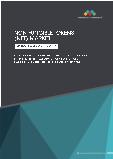 The global NFT market size is expected to grow from USD 3.0 billion in 2022 to USD 13.6 billion by 2027, at a Compound Annual Growth Rate (CAGR) of 35.0% from 2022 to 2027. Major factors fueling the momentum of NFT growth include the increasing influence of celebrities for NFT adoption, revolutionizing the gaming industry and slow but continuing...
Non-fungible Tokens
World
APAC
Energy Consumption
Internet Penetration

Towards Next Generation Asset Class - Can NFTs Outlive Hype as the New Gold of Crypto Economy? Summary In a rapidly growing digital world, it often becomes difficult to claim the ownership of assets and differentiate them.A copy of a file like a JPG, for instance, is the same as the original. Hence,...
Blockchain
Real Estate
Music
Fantasy Sports
Genomics
Semantic Web
World
United States
Greenhouse Gas Emissions
Energy Consumption