3 reports
As the global chemicals industry is at the onset of the recovery phase, companies are focusing on identifying and monetizing new opportunities in the industry. The majority of the chemical industries are likely to record volume growth of 4% to 8% in the short term, depending on the chemical sub-segment and product portfolio. A large volume...
Fullerene
World
Europe
Middle East
Africa
APAC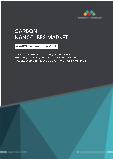 The company offers CNTs, fullerenes, and fullerene derivatives.
Carbon Nanotube
APAC
Europe
North America
Middle East
Africa
Vehicle Production
Car Sales

The company provides a combustion-based process technology using carbon materials, which include fullerenes, nanotubes, and their chemical derivatives.
Nanomaterial
World
APAC
Europe
Solar Capacity
Electricity Capacity