3 reports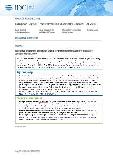 This IDC Market Perspective provides an overview of key events and announcements in Europe that speak to the reality of digital transformation (DX) in Q1 2019. It covers major news, significant deals with a DX angle, key policy announcements and regulatory actions, and major investments that could impact markets locally or regionally. This...
Artificial Intelligence
Public Transport
Open Data
E-Services
Cybersecurity
Energy Efficiency
Europe
United Kingdom
France
Early Retirement
Household Consumption Expenditure
Introduction This report is one of a series of studies of the digital strategies of major operators around the world. It assesses Deutsche Telekom's digital strategy, its digital-service developments, and prospects for the group's digital businesses. Highlights Like many of its European counterparts, Deutsche...
E-Services
Cybersecurity
World
Europe
Germany
Summary AioCare (AioCare), formerly known as Biosign Technologies Inc. is a medical device company that manufactures, distributes and exports health information technology products. The company offers products, which include pulsewave, pulsewave MAX and healthanywhere. Its healthanywhere is a software application that helps clinics,...
Medical Equipment
Application
Healthcare IT
Health Services
Medical Device
North America
APAC
Canada
Europe
Germany
Middle East
United States
Africa