2 reports

The global convertible roof system market was valued at USD 1346.61 million in 2021, and it is expected to reach USD 1,663.92 million by 2027, registering a CAGR of about 3.61% during the forecast period. The Impact of the COVID-19 pandemic on the automotive industry is inevitable due to shut down of automotive manufacturing units...
Automotive
Auto Parts
Luxury Automobile
World
Europe
APAC
Luxury Automobile Sales
Car Sales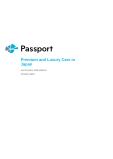 The automotive industry was significantly negatively affected by the COVID-19 pandemic in 2020, as mobility and spending were restricted, and these factors continued in 2021, limiting demand for high-end cars. Despite the easing of COVID-19 restrictions in 2020 as cases decline, sales are set to continue to fall in 2022. Premium and...
Luxury Automobile
Japan
Luxury Goods Revenue
Luxury Goods Consumption