3 reports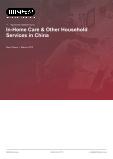 Abstract In-Home Care & Other Household Services in China Companies in the In-home Care and Other Household Services industry in China provide various in-home services for households, e.g., nursing care of infants, new mothers, children, elders and patients, etc., as well as cooking, cleaning, driving, housekeeping...
Household Services
Home Healthcare
China
Disposable Income
Employment Income
Major companies in the services market include BCD Travel, Enterprise Holdings Inc., Randstad Holding NV, Adecco Group, Travel Leaders Group, TUI Group, Recruit Holdings, ManpowerGroup Inc., Berkshire Hathaway Inc. and Waste Management Inc. The global services market is expected to grow from $12586.88 billion in 2021 to $14057.24 billion...
Real Estate
Infectious Disease
Big Data
Pet Care
Artificial Intelligence
Telecommuting
Parking Service
Laundry Services
Funeral Services
3D Printing
Personal Care
World
North America
This report forecasts to 2021 and 2025 revenues for US contract cleaning services in nominal US dollars. Total revenues are segmented by service type in terms of: interior, carpet and upholstery, exterior, and other contract cleaning services (such as chimney, drain, and gutter cleaning; ventilation duct and hood cleaning;...
Contract Cleaning Service
United States