3 reports
Global Pet Care Market 2022-2026 The analyst has been monitoring the pet care market and it is poised to grow by $ 58.96 million during 2022-2026, accelerating at a CAGR of 5.75% during the forecast period. Our report on the pet care market provides a holistic analysis, market size and forecast, trends, growth drivers,...
Pet Care
World
Middle East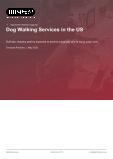 Ruff day: Industry profit is expected to decline marginally due to rising wage costs Abstract Dog Walking Services Higher pet ownership and increased pet spending have largely supported the industry's expansion over the five years to 2018. The industry has been characterized by a changing landscape,...
Pet Care
Disposable Income
Employment Income
About Pet Care Packaging Products Pet care packaging products are designed for the packaging applications of pet food items, medical suppliers, and grooming products. The products used for pet care packaging include bags, pouches, plastic bottles, metal cans, folding cartons, and other packaging solutions. The growing use of flexible...