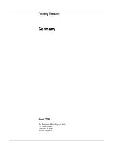 Country Forecast Germany June 2018 Updater
June 2018 •
Report ID: 1697249 •
Format: PDF


In the September 2017 federal election the centre-right Christian Democratic Union (CDU) won the largest share of the vote. After six months of negotiations a renewed grand coalition of the CDU and the Social Democratic Party (SPD) was installed in March 2018. By agreeing to form another grand coalition the SPD averted the risk of a minority government or a new election.
The SPD won significant concessions from the CDU in the negotiations and now controls the ministries of finance, foreign affairs, and labour and social affairs. Nonetheless, the party's public support has continued to fall since its poor election result.
The political scene will be less stable in the forecast period (2018-22) than over the previous decade. The SPD will be more vocal, and possible successors to Angela Merkel, who has held the position of chancellor since 2005, will jockey for position. The far-right Alternative for Germany (AfD) entered the Bundestag (the lower house of parlia-ment) for the first time at the October election, and is now the largest opposition party.
The Economist Intelligence Unit expects the new government to take a looser fiscal stance. Tax cuts will be combined with greater public investment spending, especially on infrastructure and digital technologies. Nevertheless, we expect the budget to remain in surplus throughout the forecast period.
We forecast 2.1% real GDP growth in 2018, reflecting strong expansionary conditions in manufacturing and services, with annual average growth moderating to 1.7% in 2019-22. Domestic demand will drive growth, with the tight labour market gradually feeding through to a rise in wage growth.
A further escalation of the trade dispute between the EU and the US is the main downside risk to the outlook, especially if it results in a tit-for-tat tariff dispute following the imposition of tariffs by the US on steel and aluminium imports from the EU.
Inflation will be driven initially by a recent increase in oil prices, followed by stronger wage growth from late 2018, and will average 1.8% in 2018-22.
Germany's large-and often controversial-current-account surpluses will persist, although we expect them to decline gradually in 2018-22 as import demand strengthens, from 8.1% of GDP in 2017 to just under 7% of GDP in 2022.