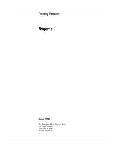 Country Forecast Nigeria June 2018 Updater
June 2018 •
Report ID: 1697304 •
Format: PDF


Manoeuvring ahead of presidential and legislative elections due in 2019 will cause high tensions and distract from the much-needed economic reform programme.
The administration will struggle to tackle high levels of poverty and the country's ethnic and religious divisions. This will create a potent mixture that will lead to frequent violent instability.
The 2019 elections will be a close contest between the ruling All Progressives Congress and the People's Democratic Party. Both parties will struggle with internal disunity in the run-up to the polls and there is a chance that one or both will break apart.
Policy reform-particularly in the vital oil industry-will be slow as a result of divisions in the political elite between advocates of tough, unpopular market reforms and those who prefer pandering to nationalistic and pro-subsidy interest groups. The latter group is likely to remain in the ascendancy.
The politicisation of economic policy will also slow reform and at times actively decelerate economic growth. The Central Bank of Nigeria will not act completely independently, and the overall policy agenda will be pulled in differing directions by various powerful interest groups.
Fiscal expenditure will remain dominated by recurrent spending, despite attempts to boost capital investment. Efforts to boost non-oil tax revenue will be constrained by weak bureaucratic capacity and low economic growth.
Growth will remain well below the levels needed to boost job creation and increase living standards, constrained by the country's crippling infrastructure deficit throughout the forecast period.
Inflation will generally remain high over the forecast period amid expansionary fiscal policy and high food prices stemming from government efforts to limit imports and support local producers.
The authorities will continue to interfere in the foreign-exchange market, although the degree of interference should eventually lessen with higher oil prices supporting reserves and broad economic confidence slowly improving.
The current account will record small surpluses over the forecast period, as a pick-up in oil prices is offset by recovering import demand. The difficult business environment will restrict the development of non-oil exports.