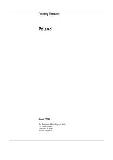 Country Forecast Poland June 2018 Updater
June 2018 •
Report ID: 1697311 •
Format: PDF


Since entering office in late 2015 the government, led by the nationalist, right-wing, conservative Law and Justice (PiS) party, has instigated a series of reforms that have undermined the independence of Poland's democratic institutions. These measures have contributed to increased polarisation of public opinion and considerable antagonism with the EU.
The PiS has rejected EU criticism following controversial moves to reform the judiciary. Given the government's failure to address the EU's concerns, the European Commission has proposed that the European Council initiate Article 7 proceedings. However, Hungary, which has also pursued similar illiberal policies, has said that it will veto any attempt to impose sanctions on Poland.
Owing to its difficult relationship with both the EU and Russia, Poland is seeking to cement its diplomatic relationship with the US. The energy and military sectors seem to be likely areas where this relationship could develop. For the US, Poland is well positioned to become a priority contact in Europe.
In August 2017 the government stepped back from plans for a system-wide conversion of foreign-currency-denominated mortgages, which are held by a large number of Polish citizens. A new bill proposes an extension of Poland's system of mortgage-relief funds, easing fears about the banking sector.
Real GDP growth accelerated to 4.6% in 2017, from 3% in 2016, amid robust private consumption, higher government spending and a rebound in investment (driven in part by a resumption of EU funding). The Economist Intelligence Unit forecasts annual real GDP growth of 3.5% in 2018-22. However, there are external risks to this forecast, such as an expected business cycle downturn in the US in 2020.
After two years of persistent deflation, consumer prices rose by 2% on average in 2017, reflecting higher global commodity prices and firmer domestic demand. We expect the National Bank of Poland (NBP, the central bank) to remain dovish against a backdrop of mild zloty appreciation against the euro in 2018, and a gradual tightening of monetary policy may not begin before 2020.
The current account was broadly in balance (at a surplus of 0.3% of GDP) in 2017. We forecast that the current account will swing back into a deficit in 2018 as world oil prices and domestic demand increase. However, the current-account deficit will remain small, at an average of 0.8% of GDP per year in 2018-22.