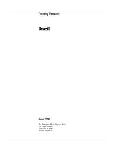 Country Forecast Brazil June 2018 Updater
June 2018 •
Report ID: 1697345 •
Format: PDF


Governability will weaken as campaigning for elections in October 2018 brings legislative business to gridlock by the second quarter. The presidential race is unusually open. The Economist Intelligence Unit assumes that a candidate from a centre-right party (we tentatively think that this is likely to be Geraldo Alckmin) will prevail, but there are risks to this.
With the approval of social security reforms (complementing a bill approved by Congress at end-2016 capping spending to inflation) now left to the next government, concerns about the fiscal outlook will persist. As revenue picks up with economic recovery, the fiscal and debt dynamics will gradually stabilise. The public debt/GDP ratio will nonetheless exceed 80% in 2019-22.
The Banco Central do Brasil (the central bank) has ended its long easing cycle with the Selic policy rate at 6.5%. A tightening cycle will begin in a couple of quarters. The monetary authorities are more committed to achieving the mid-point of the inflation target range (3-6% currently, but set to fall incremen-tally in the next few years) than in the past, and we now expect fairly close target convergence in 2018-22.
Policy adjustments will consolidate the recovery that began in 2017 after a deep recession in 2014-16. Slowdowns in China (in 2018) and the US (in 2020) will dampen the upturn, however. Brazil's GDP growth will average 2.6% annually in 2018-22, assuming that the next government pursues sound policies.
The current-account deficit will widen from 0.5% of GDP in 2017 (reflecting weak import demand) to 2.6% of GDP by 2022 as the recovery boosts imports. The Real will weaken to over R3.8:US$1 by end-2022, staying vulnerable to volatility from changes in global conditions.
Brazil has the world's fifth-largest population. Following the 2014-16 recession, a gradual economic recovery is finally underway, which will enhance Brazil's market size (US$2.5trn by 2022) and attractiveness.
Despite some simplifications, the tax system will remain very burdensome-and one of the weakest areas of the business environment. Investment in infrastructure through a concessions programme will help to ease logistical bottlenecks, but upgrading and extension will take time.