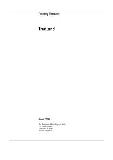 Country Forecast Thailand June 2018 Updater
June 2018 •
Report ID: 1697351 •
Format: PDF


A new constitution, approved in a public referendum in 2016, will entrench the military's role in future governments and limit the powers of democratically elected politicians. This relatively restrictive form of democracy will nevertheless help to maintain political stability and enable more consistent policymaking in 2018-22.
The Economist Intelligence Unit expects the next elections to be held in 2019. There have been numerous delays, but the risk of further postponement is tempered by rising discontent with the current political situation. The junta will be keen to avoid large-scale public protests that could undermine the legitimacy of its influence over the next government, particularly as the current prime minister, Prayuth Chan-ocha, is positioning himself for a key role in the next administration.
Ties with China will strengthen as the junta and any future elected government look to that country for investment. Thailand will also focus on increased engagement with its neighbours in the Association of South-East Asian Nations (ASEAN), particularly in the area of economic integration.
The Bank of Thailand (BOT, the central bank) will look to tighten monetary policy modestly in 2018-19, partly to narrow the interest-rate differential with the US. However, external sector uncertainty in 2019-20, as well as relatively low inflation, will stall subsequent tightening.
We expect real GDP growth to average 3.5% a year in 2018-22. The economy will continue to be supported by strong tourist arrivals throughout the forecast period. Investment will be buoyed by big-ticket public infrastructure projects. Private consumption will remain below par owing to still-high household debt levels and lacklustre wage growth.
Although average consumer price inflation will be around the lower end of the BOT's target range of 1-4% in 2018-22, it will be higher than in 2013-17. As domestic and external demand strengthens and commodity prices rise, the rate of inflation in Thailand will accelerate to an average of 1.8% a year in 2021-22.
The current-account surplus will average the equivalent of 10.2% of GDP in 2018-22. Weaker export growth will reduce the merchandise trade surplus in 2020, while the primary income deficit will continue to widen throughout the forecast period. However, a growing surplus on the services account will help to keep the nominal current-account balance relatively stable.