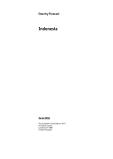 Country Forecast Indonesia June 2018
June 2018 •
Report ID: 1697541 •
Format: PDF
Policy towards private enterprise and competition
2018-19: Businesses continue to experience less onerous permit applications and quicker customs checks at ports of entry.
2020-22: The administration tries to liberalise various sectors, boost competition and improve the quality of private enterprise. Small and medium-sized enterprises, in particular, are encouraged via tax concessions.
Policy towards foreign investment
2018-19: A new government continues to pitch for foreign investment in infrastructure and manufacturing, highlighting the improvements made to business regulations. However, bureaucratic hurdles and concerns over legal certainty persist. Changes to work-permit applications for skilled foreign workers lower operational costs.
2020-22: The process surrounding changes to the "negative investment list", which specifies sectors of the economy that are partially or fully closed to foreign investors, remains inconsistent, with some sectors opened while others stay closed.
Foreign trade and exchange controls
2018-19: Many trade barriers in the Association of South-East Asian Nations (ASEAN) are reduced, although lobbying by vested interests results in new non-tariff barriers appearing in some key sectors in Indonesia.
2020-22: Protectionist policies in natural-resource sectors remain firmly in place.
Taxes
2018-19: Diversifying government revenue and improving tax compliance remain key areas of focus for the Ministry of Finance. Revenue collection increases in absolute terms, but the tax-to-GDP ratio remains low.
2020-22: Greater public engagement results in more transparency in local government spending. Tax inspectors begin to see results from a new information-technology (IT) system and Indonesia's compliance with the OECD's Automatic Exchange of Information.
Financing
2018-19: Bank Indonesia (the central bank) pursues a more accommodative macroprudential policy in order to encourage still-sluggish credit growth.
2020-22: Further liberalisation of the financial sector takes place in order to meet the conditions set out under the ASEAN Banking Integration Framework.
The labour market
2018-19: Firms continue to report a significant skills gap. There is no adjustment to labour laws mandating long severance periods, but changes to rules on hiring foreign workers cut the work-visa approval process from months to weeks.
2020-22: Labour-intensive industries continue migrating from the capital, Jakarta, and West Java to Central Java. A change of the law to redraw rigid labour rules is not assured, but is most likely to occur after the election in 2019.
Infrastructure
2018-19: Problems in the civil service and the judiciary hinder land acquisition for toll roads and other projects. Financing shortages lead the government to encourage foreign investment in infrastructure; Chinese firms engage heavily.
2020-22: Reforms to civil-service incentive structures, land-registration procedures and judicial accountability finally facilitate breakthroughs in infrastructure development.
Technological readiness
2018-19: The government encourages innovation and technological development by easing regulation and providing financial support.
2020-22: Vocational training institutes with a particular focus on manufacturing and IT are set up.