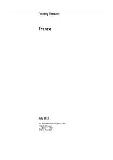 Country Forecast France July 2018
July 2018 •
Report ID: 1697604 •
Format: PDF
Policy towards private enterprise and competition
2018-19: The government pursues some liberalising reforms and scales back public stakes in some "non-strategic" firms. Progress is made in lowering barriers of entry to sheltered sectors, despite continued public and trade union resistance.
2020-22: Further reforms to improve the operating environment are passed, but public resistance to change continues.
Policy towards foreign investment
2018-19: Favourable policy towards foreign direct investment is qualified by support for "national champions" and protection of industries in sectors deemed "strategic".
2020-22: Possible erosion of barriers against foreign takeovers as a result of commercial pressures and EU law.
Foreign trade and exchange controls
2018-19: Foreign trade remains governed by EU rules. Healthy economic growth among several important trading partners stimulates demand for French exports as recovering demand boosts imports, resulting in higher trade flows.
2020-22: Qualified support for further trade liberalisation, except in agriculture, defence and cultural services.
Taxes
2018-19: Reduction of the labour-related tax burden in order to boost competitiveness and support employment growth remains a government priority, but changes are introduced incrementally in order to contain the fiscal deficit.
2020-22: Reduction in corporate tax rates for small and medium-sized enterprises and companies reinvesting their profits. Pressure is maintained on low-tax EU countries to harmonise their tax rules with the rest of the bloc.
Financing
2018-19: Lending dynamics improve gradually as the economic recovery in France and across the euro zone continues.
2020-22: Public investment in the digital economy, energy and other infrastructure is financed by the sale of some state assets. Private investment is supported by changes to tax policy and continued low interest rates.
The labour market
2018-19: Despite union resistance, liberalising labour market reforms bring continued modest improvements, with flexibility introduced on overtime, dismissal costs capped and company-level (instead of industry-level) agreements on wages.
2020-22: Corporate tax reforms and continued economic growth provide more incentives for firms to hire.
Infrastructure
2018-19: More cities install electric-vehicle charging points. Fifth-generation (5G) broadband starts to be trialled.
2020-22: A massive public investment plan leads to the construction of the Grand Paris Express suburban rail project.
Technological readiness
2018-19: Rising levels of mobile (including 5G) and broadband penetration, combined with supportive government policies for the tech sector, drive broader technological developments including in mobile apps and cloud computing.
2020-22: In order to reduce red tape and streamline public services, there is an acceleration in the shift to e-government. The government's reforms to vocational training strengthen links between higher education establishments and industry.