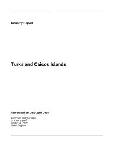 Country Report Turks and Caicos Islands 3rd Quarter 2018
July 2018 •
Report ID: 1697707 •
Format: PDF
Review


The government of the premier, Sharlene Cartwright-Robinson, said that it would commit to achieving international tax transparency standards by the end of 2018. Assessment of the performance of the Turks and Caicos Islands (TCI) by the EU's Code of Conduct Group was deferred, given the passage of Hurricanes Irma and Maria in September 2017, but resumed this year. The TCI has in large measure already implemented many tax transparency and corporate tax avoidance rules.
In addition to efforts to introduce EU regulations, the TCI will also co-operate with the Caribbean Financial Action Task Force (CFATF) on implementing money-crime prevention measures. The CFATF oversees the implementation of anti-money-laundering standards and other efforts to combat the financing of terrorism in 25 Caribbean jurisdictions. The TCI will undertake its fourth round of CFATF tests in September; the last one concluded in June 2016.
In June representatives from the TCI and other UK Overseas Territories met with UK representatives in London to discuss recent UK legislation mandating the creation of public beneficial ownership registries which could have negative implications for offshore financial centres. Nevertheless, the effect of this legislation on the TCI should be less extreme than for other jurisdictions, given the territory's smaller financial sector.
In June the TCI also received UK border experts to receive advice on handling increased illegal migration to the TCI from elsewhere in the Caribbean, particularly Haiti. The experts will assess the islands' operational capacity and capabilities and make suggestions on improvements. The TCI requested UK support on migration in early 2018.
In July the House of Assembly (the legislature) announced the approval of the 2018/19 budget, which is projected at US$290m. The budget includes US$3m to boost the tourism sector in the wake of the hurricanes last year, and offers additional funds for hurricane recovery. The opposition criticised the govern-ment for the islands' slow recovery from the hurricanes.
The government said that it expects the biggest investment and construction boom in its history in 2018, given the reconstruction efforts from Hurricanes Irma and Maria, as well as a number of new investments, particularly by high-end tourism brands, in the second half of the year. The boom is being supported by the government's post-hurricane upgrading of the airport at Grand Turk, as well as relief from customs duties on imported building materials to aid reconstruction efforts.