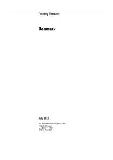 Country Forecast Denmark July 2018 Updater
July 2018 •
Report ID: 1697765 •
Format: PDF


In the June 2015 election the centre-right "blue bloc" of the Liberal Party, the Danish People's Party (DF), the Liberal Alliance (LA) and the Conservative People's Party (KF) won a narrow victory, beating the centre-left "red bloc", which includes the former governing parties of the Social Democrats and the Social Liberal Party. The anti-immigration DF was the big winner, becoming the largest party in the blue bloc, but it opted to remain outside of government.
In late 2016 the Liberal Party, headed by the prime minister, Lars Lokke Rasmussen, was joined in government by the LA and the KF. Controlling only 53 out of 179 parliamentary seats, the government is dependent on the DF's 37 votes to ensure a majority, which has made for an unstable term for the coalition. Nevertheless, with almost one year to go until the June 2019 election, The Economist Intelligence Unit expects the government to survive a full term.
The government's central strategy to boost economic activity is the "2025 growth plan", but the coalition has suffered major political defeats in negotia-tions with the DF. As a consequence, a watered-down version of the plan will be implemented. The DF will further increase tensions with the centre-right parties by demanding an overhaul of immigration policy.
A broad-based recovery in the euro zone and a rebound in global trade and business investment supported real GDP growth in 2017, which averaged 2.2%. In 2018 we expect real GDP growth to remain firm, driven by stronger domestic demand. The economy will continue to grow at robust rates for a mature economy, at an average of 1.9% in 2019-22.
Inflation has remained subdued over the past few years, averaging 0.5% in 2013-16. In 2017 it picked up, driven by higher food and energy prices, but price pressures have weakened since. Inflation should remain soft in 2018, but accelerate gradually in 2019-22, to an average of 1.5%. Risks are on the upside, as the tighter labour market could lead to stronger than expected wage growth.
The central objective of the monetary policy of Danmarks Nationalbank (the central bank) is to maintain a peg to the euro within a corridor of Dkr7.46:EUR1 ±2.25%. We believe that the peg will remain credible in the forecast period (2018-22). Interest rates should remain negative throughout this period, but small increases are possible.