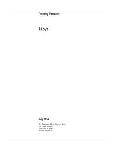 Country Forecast Libya July 2018 Updater
July 2018 •
Report ID: 1697878 •
Format: PDF


A new UN-led initiative to form a unity government and then move towards elections is expected to progress, with major delays, in 2019, following the likely appointment of a powerful Qadhafi-era general, Khalifa Haftar, as commander of the country's armed forces.
Even following the progress on the UN initiative, insecurity will remain widespread, with local armed groups vying for influence, and Islamic State maintaining a presence around Sirte. Moreover, opposition to Mr Haftar from typically Islamist militias in Tripoli and Misurata will probably lead to a spike in fighting in early 2019. However, a growing desire for stability will prevent such militias from gaining widespread support, thus preventing a return to full-scale civil war.
Oil output will rise on average over the forecast period, as security gradually improves, although it will not reach pre-war levels and will remain subject to intermittent outages owing to power shortages, strikes and sabotage.
Fearful of exacerbating social unrest, the Central Bank of Libya, with its large stock of foreign reserves, will continue to operate as a de facto Ministry of Finance until a unified government emerges, prioritising current expenditure on subsidies and salaries over large-scale reconstruction works. The latter will be largely delayed until the final years of the forecast period (2020-22), when a more permanent government should be able to restore a degree of stability.
The Economist Intelligence Unit estimates that real GDP expanded in 2017 for the first time since 2012, by 25.6%, as a result of a doubling in oil output. However, growth will slow to an average of 5% in 2018-19, owing to pent-up import demand, before rising again from 2020 as the non-oil sector begins to recover and capital expenditure rises.
Consumer price inflation will remain in double digits in 2018-22, mainly owing to supply-chain disruptions and the monetisation of the fiscal deficits. However, it will ease from an estimated 28.5% in 2017 to an average of 15.1% in 2020-22 as a result of improving security and an easing of currency pressures, in turn lowering import costs. The rise in oil output and foreign reserves since end-2016 should help maintain the currency peg to the IMF's special drawing rights.