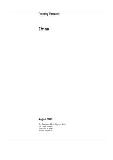 Country Forecast China August 2018 Updater
August 2018 •
Report ID: 1697964 •
Format: PDF


In March 2018 the annual session of the National People's Congress (the legislature) confirmed the president, Xi Jinping, for a second five-year term. It also voted to remove term limits from the offices of the president and vice-president, pointing to Mr Xi's plan to stay in power beyond 2023.
Mr Xi's centralisation of power will allow firmer enforcement of his policies meant to ensure the ascendancy of the Chinese Communist Party (CCP) while fostering more balanced growth. However, this concentration of authority creates risks by tying the political system to Mr Xi's health and judgment.
The Economist Intelligence Unit has revised its expectations for US-China economic relations and expects the US to levy higher tariffs on around US$150bn of a threatened US$200bn-worth of Chinese goods imports, probably in September 2018. This will have a negative impact on both economies and meets our definition of a bilateral "trade war".
In the context of trade headwinds, economic policy will shift to a pro-growth footing and we expect targeted monetary and fiscal policy stimulus in 2018-19. This will be enough to ensure that the CCP reaches its target of doubling real GDP by 2020 over the level in 2010, but will add to systemic risks.
Real GDP growth is forecast to slow relatively sharply to 6.2% in 2019, from 6.6% in 2018. After the goal of doubling GDP by 2020 is met, we believe that there will be room to shift to a more flexible economic policy. Consequently, we forecast that GDP growth will slow to 5.4% a year on average in 2021-22.
The renminbi will come under downward pressure in the early years of the forecast period, owing to a widening divergence between US and Chinese monetary policy. We forecast that the exchange rate will average Rmb7.02:US$1 in 2019, compared with Rmb6.63:US$1 in 2018. Although a partial recovery is expected in 2020, China's declining current-account surplus will apply downward pressure on the currency in the remainder of the forecast period.
The current-account surplus will average 0.3% of GDP in 2018-22, lower than historical levels. Whereas the goods trade surplus is expected to remain broadly intact, the services deficit will expand markedly, mainly owing to demand for overseas travel services. Tight capital-account controls will persist, at least in 2018-19, given downward pressure on the renminbi's exchange rate.