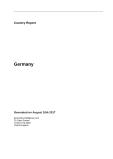 Country Report Germany August 2017
August 2017 •
Report ID: 1698076 •
Format: PDF
Outlook for 2017-21


The Economist Intelligence Unit expects the centre-right Christian Democratic Union (CDU) to win the largest vote share in the election on September 24th, significantly ahead of the centre-left Social Democratic Party (SPD).
The CDU will subsequently take the lead in coalition negotiations, leading to a new government under the current chancellor, Angela Merkel, who will thus remain in office for a fourth consecutive term.
We expect a coalition to emerge comprising the CDU and its Bavarian sister party, the Christian Social Union (CSU), with one or two of the smaller parties. Another CDU-SPD grand coalition is less likely.
Germany will play an increasingly large international role as it takes the lead on the EU's negotiations with the UK and remains dominant in both euro zone and EU debates, and in shaping the EU's response to an assertive Russia.
Significant macroeconomic policy initiatives are unlikely under either the current government or its successor, as is any serious reform aimed at tackling the country's long-term demographic challenges.
We expect a slight easing of fiscal policy after the election, with a modest increase in public investment and income tax cuts for lower and middle incomes. Nevertheless, the budget will remain in surplus in 2017-21.
We expect the recent domestic demand driven pick-up in growth to be maintained this year and next, with real GDP growth of 1.8% on average. This will be followed by a moderation to 1.5% growth on average in 2019-21.
Germany's large, and often controversial, current-account surpluses will persist, although we expect them to decline gradually over the forecast period (2017-21), from 8.3% of GDP in 2016 to about 6% in 2021.


Review


On August 4th a member of parliament for The Greens in Lower Saxony an-nounced that she was switching her allegiance to the CDU, thereby depriving the SPD-Green state government of its one-seat majority and causing a collapse of the coalition. An early election will be held on October 15th.
In early August, at a summit between automotive industry leaders and politicians representing the federal government and the states with the largest connections to the car industry, an agreement was reached to upgrade the software in 5m diesel-powered cars to reduce harmful emissions.
The Ifo business climate index rose to a record-high level in July, with firms more positive about current conditions and forward-looking demand. The composite purchasing managers' index (PMI) and the ZEW financial survey both eased back slightly in July, but remained strong overall.