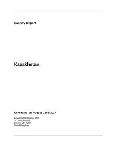 Country Report Kazakhstan August 2017
August 2017 •
Report ID: 1698127 •
Format: PDF
Outlook for 2017-21


There are signs that succession planning is under way. However, uncertainty about how and when a transition of power away from the president, Nursultan Nazarbayev, will take place is the main risk to political stability.
The Economist Intelligence Unit's baseline forecast is that Mr Nazarbayev, who is 77, will serve out his term to 2020, but risks to this forecast have risen.
The relationship with Russia will remain of primary importance in 2017-21. However, the conflict in Ukraine has made Kazakhstan more cautious about further economic integration, such as via the Eurasian Economic Union.
We forecast that real GDP growth will pick up from 0.9% in 2016 to an average of 2.7% in 2017-21. Capital spending on infrastructure will be significant, driven by the government's stimulus programme and investment from China.
The projected slowdown in China's economy in 2018, which could further depress commodity prices, represents a significant downside risk to growth.
The government will undertake limited reforms to improve the investment and regulatory environment. The privatisation programme is unlikely to have a significant impact on productivity or competitiveness.
Further state support to the banking sector will be required (and is likely to be forthcoming). Deficiencies in financial oversight are likely to persist. The risk of further serious problems emerging in the sector cannot be discounted.


Review


On July 25th Larisa Kharkova, a prominent trade union leader, was convicted of abuse of office, and on August 3rd Olesya Khalabuzar, a civil society activist, was convicted of inciting ethnic enmity.
According to Berik Sholpankulov, the deputy minister of finance, the government has sold stakes in 447 of the 569 companies that it has put up for sale since June 2014.
On July 17th the National Bank of Kazakhstan (NBK, the central bank) kept its policy rate at 10.5%, with a ±1-percentage-point interest rate corridor.
On August 9th the NBK said that it would issue banks with funding of Tenge600bn-Tenge1trn (US$1.8bn-US$3bn) by purchasing bonds to help them to write off distressed assets.
In the first half real GDP (gross value added) grew by 4.2% year on year, according to a first estimate by the Statistics Agency of the Republic of Kazakhstan.
In July retail trade volumes grew by 9.2% year on year, up from 4.6% in June.
In July consumer price inflation stood at 7.1% year on year, down from 7.5% in June 2016 and an average of 14.6% in 2016.