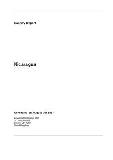 Country Report Nicaragua August 2017
August 2017 •
Report ID: 1698230 •
Format: PDF
Outlook for 2017-21


The president, Daniel Ortega, and his wife (the vice-president), Rosario Murillo, will increase their control over state institutions following Mr Ortega's re-election in November 2016 in a flawed voting process.
Mr Ortega will make gestures towards political reform as a means of staving off internal and external pressure before municipal elections in November 2017. Nonetheless, a lack of adequate supervision will be cause for concern.
Periodic tensions with Colombia and Costa Rica will persist. Ties with and aid from Venezuela will weaken as that country's economic crisis worsens. Multilateral assistance will continue, albeit to a lesser extent.
Fiscal reform will stall, and faster spending than revenue growth will bring the non-financial public-sector deficit up to 2% of GDP in 2017. It will average this level as a percentage of GDP in 2018-21.
Growth in agriculture, investment and consumption are supportive of a forecast expansion of real GDP of 4.3% in 2017. Growth will ease to 3.6% in 2019, partly owing to a US slowdown, before picking up again in 2020-21.
Inflation will rise to 4.3% at year-end 2017, reflecting a moderate recovery in oil and commodities prices. Slowing growth, fiscal retrenchment and monetary tightening will prevent higher inflation.
The current account will remain firmly in deficit in 2017-21 as recovering oil prices lead to larger trade deficits. This will be offset slightly by a trans-fers surplus averaging 12.2% of GDP a year in 2017-21, largely owing to remittances.


Review


Recent analysis by the IMF has shown that Nicaragua's social security administration is projected to run out of liquid reserves by 2019, rather than in 2024. Pension reform has therefore risen on the political agenda.
Economic activity slowed to 3.9% on a year-on-year, seasonally adjusted basis in May. Livestock raising and manufacturing showed the healthiest growth, with the latter led by processed sugar and meat as well as textile exports.
Inflation rose by just 0.05% in June, bringing 12-month inflation to 3.1%. Although this was up slightly from 2.9% in May, it remains unchanged from the 3.1% recorded at end-2016 and a peak this year of 3.9% in January.
The current account registered a slight surplus of US$261m (0.03% of GDP) in the first quarter. This owed to a narrower trade deficit owing to higher export revenue, as well as 13% growth in tourism revenue in the quarter.
Nicaragua's net international reserves grew by US$138.3m in the first half of 2017, to US$2.5bn at end-June. The increase owes to the modest surplus in the current account and less use of US dollar holdings by the public sector.