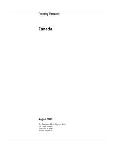 Country Forecast Canada August 2018 Updater
August 2018 •
Report ID: 1698236 •
Format: PDF


The Liberal Party has shifted politics to the left since its victory at the election in late 2015. For most of its term it has been broadly popular, but its poll ratings have declined in recent months. With the two main opposition parties under new leadership, the Liberals' dominance of the political scene will be challenged more strongly in 2018-19.
A US-led renegotiation of the North American Free-Trade Agreement (NAFTA) poses huge risks to the economy, but The Economist Intelligence Unit expects to see a revised agreement in the second half of 2018 that contains only modest changes.
The Bank of Canada (BoC, the central bank) has added 100 basis points to its policy interest rate since July 2017. We believe that this will be followed by two rate rises in 2019. However, increased oil prices and rising US interest rates are tilting the balance of risk towards another rate increase in 2018.
Consumer price inflation will accelerate to an average of 2.2% a year in 2018-19. Slack will disappear from the labour market but commodity prices will remain low. Inflationary pressure will ease in 2020 in line with the weakening of the economy, before gradually re-emerging in 2021-22.
Economic growth is slowing relative to the fast pace set in the first half of 2017. Consumers will gradually rein in their spending, which will result in growth moderating from 3% in 2017 to 2.1% in 2018 and 1.8% in 2019. The broader outlook will darken in 2020, when we expect the US to enter a recession.
The Canadian dollar lost value against the US dollar in 2015-16, but has made some inroads following the BoC's policy shift, the rise in oil prices and broader improvements in the global economy. After a weak period in 2020, increases in oil prices towards the end of the forecast period will enable an eventual appreciation.
The current-account deficit will remain wide in 2018, at 2.3%, before narrowing gradually as a share of GDP over the remainder of the forecast period.