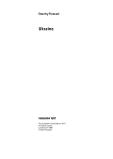 Country Forecast Ukraine September 2017
September 2017 •
Report ID: 1698244 •
Format: PDF
Policy towards private enterprise and competition
2017-18: Efforts to phase out remaining "harmful" business regulations, including a modernisation of the licensing system, and optimisation of the number of checks and inspections on businesses.
2019-21: Gradual introduction of EU-style business rules as part of Ukraine's self-imposed EU integration targets. Increased openness and transparency in state procedures, but the regulation of private business remains excessive.
Policy towards foreign investment
2017-18: Improvements in the legal and regulatory environment for foreign investment. Attempts to re-launch large-scale privatisations in an effort to attract foreign buyers (except Russian investors).
2019-21: Large-scale privatisation programme is completed. Land sales moratorium is lifted, but foreigners are still barred from buying agricultural land.
Foreign trade and exchange controls
2017-18: EU free-trade agreement starts to be fully implemented, but important exclusions to the free-trade regime persist. Trade with Russia is hampered by significant reciprocal restrictions. Further currency liberalisation takes place.
2019-21: Amid only partial capital account liberalisation the local currency is still not fully convertible. More sectors open to EU competition. More free-trade agreements are signed, based on the Ukraine-Canada and Ukraine-EU deals.
Taxes
2017-18: No ground-breaking tax reforms. The focus is on fine-tuning taxation rules and improving fiscal administration.
2019-21: Introduction of a universal income tax declaration, along with indirect fiscal methods to verify the accuracy of reported incomes. The simplified taxation system for small businesses and entrepreneurs is phased out.
Financing
2017-18: The regulator's clean-up of the banking sector comes to an end. Deposits pick up and interest rates on deposits ease gradually. Tepid credit growth is constrained by stubbornly high rates of non-performing loans.
2019-21: Sectoral consolidation takes place owing to the tightening of regulatory capital requirements. Deposit and credit growth rates pick up. Banks remain more risk averse than before the 2008-09 global financial crisis.
The labour market
2017-18: Increases in the minimum wage lead to robust growth in nominal wages. Steady growth in real wages amid relatively moderate inflation. A new labour code is finally adopted with full anti discriminatory provisions.
2019-21: Wage growth accelerates in the run-up to the 2019 presidential elections. Unemployment levels moderate, but large-scale labour migration abroad-mainly to Europe-continues, as wage levels remain among the lowest in the region.
Infrastructure
2017-18: Country-wide modernisation of the road network takes place. Initial steps taken to modernise port infrastructure with the introduction of concessions. Utility tariffs adjusted until they reach cost-recovery levels.
2019-21: The first paid motorways are put in operation. Navigation to and from the Azov Sea ports is severely limited as the Russian bridge over the Kerch Strait becomes fully operational.