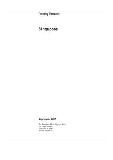 Country Forecast Singapore September 2017 Updater
September 2017 •
Report ID: 1698309 •
Format: PDF


The People's Action Party (PAP) will continue to dominate the political scene in 2017-21. The PAP tightened its grip over the presidency, with the uncontested election of Halimah Yacob on September 14th. The party's focus on improving living standards for the majority of Singaporeans will ensure that it retains strong levels of public support.
The prime minister, Lee Hsien Loong, plans to stand down before the next general election, which is due in 2021. A number of candidates for the succession are under consideration. The search for a new PAP leader ahead of the legislative poll is unlikely to result in significant political instability.
The threat of a major dispute with a nearby country in the next five years remains small. Relations with Malaysia and Indonesia will remain broadly constructive and so will ties with China, Singapore's largest trade partner.
The government will press on with its efforts to diversify the economy over the longer term. Its plans include developing sector-specific roadmaps and upgrading the skills of local workers amid a tightening of immigration flows.
The Monetary Authority of Singapore (the central bank) is expected to keep a loose monetary policy stance in 2017-18, before looking to tighten policy from 2019. It would do this by targeting a slow appreciation of the Singapore dollar against a trade-weighted basket of currencies.
The Economist Intelligence Unit expects a recovery in external demand to lift real GDP growth to 2.9% in 2017. This will prove temporary, with growth slowing to 2.3% a year on average in 2018-20, when global economic headwinds, from China's slowing economic growth in 2018 and a slowdown in the US in 2020, will affect local business sentiment.
After falling by 0.5% on average in 2016, consumer prices will rise again in 2017-21, albeit at a modest average annual rate of 1.1%. A weakening of the currency against the US dollar and a government-mandated rise in water prices will contribute to upward pressure on prices, but oil costs will remain quite low.
The current-account surplus will remain large throughout 2017-21, averaging the equivalent of 18.3% of GDP. The surplus on merchandise trade will easily offset deficits on the services and primary income accounts. The income deficit will reflect ongoing repatriation of profits from the many foreign firms based in Singapore. At the same time, remittance outflows from the sizeable foreign labour force will keep the secondary income account in the red.