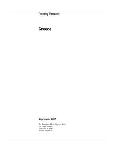 Country Forecast Greece September 2017 Updater
September 2017 •
Report ID: 1698351 •
Format: PDF


In September 2015 Syriza Coalition of the Radical Left (Syriza)-the party of the prime minister, Alexis Tsipras-won the snap election and formed a coalition government with the right-wing, nationalist Independent Greeks (AE). The Syriza-AE government has a three-seat majority. The Economist Intelligence Unit believes there is a significant risk of a pre-term election, after which the centre-right New Democracy (ND) would probably form a coalition government.
Protests about labour market reforms, pension cuts, tax and social security increases, and privatisation are likely to intensify as the government strives to meet the ambitious primary surplus budget targets under the three-year European Stability Mechanism (ESM) bail-out programme. There is a risk of increasing social unrest in 2017-18.
We do not think that the policies contained in the third economic adjustment programme will generate sufficient economic growth to mitigate Greece's debt burden or reduce popular disaffection with austerity. Political stability and Greece's membership of the euro zone will therefore remain in question over the forecast period (2017-21).
We believe that Greece will leave the euro zone by the end of our forecast period, but it is impossible to pinpoint the timing of "Grexit" and build it into our forecast numbers. Grexit would be accompanied by a major debt default and would produce a severe recession for one or two years. After that the economy would grow at a rapid pace. Growth rates under this scenario would be faster than in our medium-term forecast.
We forecast annual real GDP growth in 2017 of 1%, following stagnant growth in 2016, as budget austerity holds back the economic recovery. We forecast average annual real GDP growth of 1.8% in 2018-21 (we have not built our medium-term Grexit forecast into these numbers). We expect that public debt will still equal about 175% of GDP in 2021.
After zero inflation in 2016, we forecast average annual inflation of 1.4% in 2017-21, reflecting higher oil prices and a pick-up in domestic demand. These trends will result in widening current-account deficits in 2017-21, but these will remain moderate compared with the pre-crisis period.