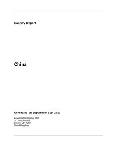 Country Report China September 2017
September 2017 •
Report ID: 2358796 •
Format: PDF
Outlook for 2017-21


The president, Xi Jinping, is set to enhance his power emphatically at the 19th national congress of the Chinese Communist Party (CCP) in October 2017. This may pave the way for him to extend his tenure in power beyond 2022.
US-China relations are set to turn frosty, with US expectations of a major shift in Chinese policy towards North Korea unlikely to be met. Yet an outright trade war or military clash is not The Economist Intelligence Unit's core forecast.
We have softened the pace of monetary policy tightening by the People's Bank of China (the central bank) over the forecast period, but nevertheless expect benchmark interest rates to drift steadily upwards in 2018-20.
Owing to less aggressive monetary policy tightening, we are forecasting stronger economic growth in 2018-19. Real GDP is now expected to expand by 6% in the period, compared with 4.9% previously.
The authorities will prioritise a stable renminbi:US dollar exchange rate in the near term, but they will permit some depreciation over the forecast period. The currency's value will average Rmb7.06:US$1 a year in 2017-21.
China's current-account surplus is expected to trend lower in 2017-21, averaging the equivalent of 1% of GDP. The merchandise trade surplus will remain stable, but the services deficit will widen.


Review


A meeting of the politburo on August 31st confirmed that the national congress of the CCP would open in the capital, Beijing, on October 18th. A new leadership team will be unveiled at the five-yearly meeting.
After several recent low-level border clashes, China and India announced troop withdrawals from a disputed territory between China and Bhutan on August 28th.
On August 14th the US president, Donald Trump, directed the US Trade Representative to begin investigating unfair trade practices related to China's policies on intellectual property rights and technology transfer.
On August 28th the authorities approved a merger between China's largest coal mining and energy company, Shenhua Group, and one of the country's largest power producers, China Guodian.
Data for July on industrial output, fixed-asset investment and retail sales of consumer goods, released on August 14th by the National Bureau of Statistics (NBS), pointed to a softening in economic activity.
In July new-home prices rose in 56 out of 70 surveyed cities in month-on-month terms, according to data released by the NBS on August 18th. That compared with 60 cities in June and 56 in May.