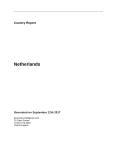 Country Report Netherlands September 2017
September 2017 •
Report ID: 2379075 •
Format: PDF
Outlook for 2017-21


The parliamentary election on March 15th led to a fragmented result, with the centre-right People's Party for Freedom and Democracy (VVD) winning the most seats in the 150-seat parliament, at 33, down from 41 previously.
The right-wing populist Party for Freedom (PVV), led by Geert Wilders, which is the main outlet for public frustration with much of the traditional political mainstream, came second, albeit with 13 seats fewer than the VVD.
Coalition negotiations have broken down several times. Currently the VVD, the Christian Democratic Appeal (CDA), the liberal Democrats 66 (D66) and the Christian Union (CU) are making a second attempt at forming a coalition.
Long and difficult coalition negotiations are not unusual in the Netherlands, but the current round looks increasingly likely to lead to agreement.
The broad direction of economic policy should remain unchanged under any new government, and the budget will remain in surplus.
In the second quarter the already robust economic recovery, supported by a booming housing market, accelerated sharply, leading to a sizeable upward revision to The Economist Intelligence Unit's full-year growth forecast, to 3.2%.
We expect 2017 to have been an outlier and for growth to moderate next year, to 2.3%. In part supported by a continued recovery of the labour market and demand from European export markets, growth will average 1.8% in 2019-21.
Inflationary pressures will remain weak despite an increase in the headline rate driven by energy-price-related base effects. We forecast inflation of 1.3% in 2017, followed by an average of 1.7% in 2018-21.
Large goods trade surpluses will keep the current-account surplus elevated, although increased domestic demand pushing up imports will cause it to fall slightly from 2018. It will decline from 10.3% of GDP in 2017 to 7.7% in 2021.


Review


In mid-August leaked reports indicated that the four parties involved in the coalition negotiations were close to agreement, as they seemed to have been able to find a compromise on some of the more pressing differences between D66 and the CU in particular.
In the second quarter seasonally adjusted real GDP grew by an astounding 1.5% quarter on quarter. Net exports and private consumption provided the largest boosts to growth.
In August the manufacturing purchasing managers' index recorded its third-highest reading in the survey's 17-year history, at 59.7, suggesting that strong growth has continued into the third quarter. The European Commission's economic sentiment indicator fell slightly but remained close to multi-year highs.