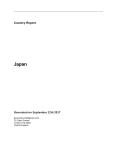 Country Report Japan September 2017
September 2017 •
Report ID: 2556809 •
Format: PDF
Outlook for 2017-21


The Economist Intelligence Unit expects the ruling coalition, led by the Liberal Democratic Party (LDP), to dominate the political scene in 2017-21, whether under the current prime minister, Shinzo Abe, or a different LDP leader.
The threat emanating from North Korea will encourage security co-operation between Japan and South Korea, but this is unlikely to lead to a broader improvement in diplomatic relations between the two countries.
Upward pressure on public spending, especially for social services, will intensify in 2017-21. The government will fail to achieve its goal of moving the primary budget balance into surplus by fiscal year 2020/21 (April-March).
The Bank of Japan (the central bank) will maintain an ultra-loose mone-tary policy stance in the early part of the forecast period. However, we do not expect its 2% target for core consumer price inflation to be met in 2017-21.
Aided by a recovery in external demand, we expect real GDP to grow by 1.6% in 2017. However, owing to an anticipated slowdown in China and the US, we forecast that growth will decelerate to an average of 1% a year in 2018-21.
The yen will trade in a fairly wide range over the medium term. Its safe-haven status and an anticipation of divergent monetary policy trends in Japan and the US will pull the yen in opposite directions against the US dollar in 2017-21.


Review


The embattled prime minister, Mr Abe, forged ahead with his strategy to regain public trust and halt the slide in his government's approval ratings by unveiling a new cabinet line-up on August 3rd.
On August 7th Masaru Wakasa, an independent member of parliament, announced the formation of a new political group, Japan First. Mr Wakasa is a close ally of Yuriko Koike, the popular governor of the capital, Tokyo.
On August 29th North Korea tested a ballistic missile that flew over Japan's northern island of Hokkaido and landed in the Pacific Ocean. Mr Abe described the action as "unprecedented" and a "grave threat" to Japan's security.
According to data released by the Cabinet Office on August 15th, real GDP grew by a preliminary 2% year on year in the second quarter of 2017, and by an annualised 4%, marking six consecutive quarters of gains.
Core consumer prices (excluding fresh food) rose by 0.4% year on year in June, marking six consecutive months of price growth.
According to trade statistics from the Ministry of Finance, merchandise exports (in local-currency terms) increased by 13.4% year on year in July, marking eight consecutive months of export gains. Imports of goods rose by 16.3%, compared with 15.5% in June.