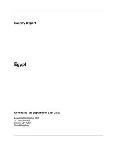 Country Report Egypt September 2017
September 2017 •
Report ID: 2557361 •
Format: PDF
Outlook for 2017-21


The risk of a government overthrow is low, but large-scale anti-regime protests cannot be ruled out, given limited room for political expression and tough economic conditions. Heavy security measures should contain social unrest.
Difficult economic conditions-high inflation and stagnant incomes-will persist in 2017 as Egypt adjusts to a new, more flexible currency regime. The outlook will improve thereafter, boosted by rising domestic natural gas supply.
The economic reform programme (agreed with the IMF) will ensure progress in fiscal consolidation, although business-related structural reforms will proceed slowly owing to opposition from vested interests within state bodies.
The fiscal deficit is forecast to narrow, albeit gradually, from 12.1% of GDP in fiscal year 2015/16 (July-June) to 7.8% of GDP in 2020/21 as the impact of falling debt-service payments is partly offset by rising social spending.
Inflation will spike in 2017 owing to the impact of currency depreciation, tax increases and fresh subsidy cuts. It should ease thereafter as the pound starts to stabilise (and potentially appreciate) against major currencies.
The current-account deficit will narrow throughout the forecast period as exports post steady growth and imports broadly stagnate. There will be some import contraction in 2017-18 owing to rising domestic fuel supplies.


Review


The US has decided to withhold a portion of its US$1.5bn aid allocation for Egypt in the current fiscal year, which ends in October, in light of concerns about human rights. However, we still expect Egyptian-US bilateral ties to remain cordial.
ACWA Power (Saudi Arabia), the largest private power developer in the Middle East and North Africa, signed agreements on August 8th to build three solar-power plants in Upper Egypt as part of the second round of the government's feed-in tariff programme.
The government has increased the allocation of natural gas for the Idku liquefied natural gas (LNG) export terminal, following a significant rise in production from Egyptian fields. Egypt is on course to achieving fuel self-sufficiency by 2020.
The year-on-year inflation rate based on the urban consumer price index rose to a new record of 33% in July, driven largely by further cuts to fuel price subsidies in late June.
Egypt's non-oil trade deficit fell by almost 50% in the first half of 2017. The decline in the deficit reflects the impact of the currency liberalisation and efforts to curb imports.