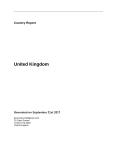 Country Report United Kingdom September 2017
September 2017 •
Report ID: 2557378 •
Format: PDF
Outlook for 2017-21


The Conservative Party minority government is led by a politically damaged prime minister, Theresa May, and depends on a "confidence and supply" agreement with the Democratic Unionist Party (DUP).
The government will be politically fragile and is unlikely to last a full five-year term; its working majority of 13 will be eroded by by-elections and it will face major domestic and external challenges during the Brexit process.
In March 2017 parliament passed Article 50, starting a two-year negotiation on the UK's exit from the EU; after March 2019 EU treaties will cease to apply.
Mrs May has said that the UK will leave the single market and the customs union, but her new government will face pressure to soften the terms of Brexit. It will pursue a free-trade deal, to be phased in gradually from 2019.
The Economist Intelligence Unit forecasts that the budget deficit will widen from 3% of GDP in 2016 to 3.6% in 2017 as slower growth negatively affects the public finances. The public debt/GDP ratio will peak at about 93% in 2019.
There is a risk of a rate increase in the near term, but the Bank of England (BoE, the central bank) is likely to retain a cautious stance. We expect the next move to tighten monetary policy in early 2021.
We forecast a short-term slowdown in real GDP growth, to 1.7% in 2017 and an average of 1.3% in 2018-19 as cost pressures and uncertainty intensify, and an acceleration in 2020-21.


Review


In the third round of Brexit negotiations on August 31st the two sides settled some important issues relating to Northern Ireland and citizens' rights, but came no closer to reaching an agreement on the financial settlement.
Ahead of the talks the government published a series of position papers and future partnership papers. One stated that the UK wanted to continue current customs arrangements for a limited time from March 2019 and presented two options for customs arrangements as part of the future trade deal.
On September 15th the pound reached a 15-month high against the US dollar, of US$1.35:£1, after commentary following the BoE's monetary policy committee (MPC) suggested that a majority of members would soon be ready to reverse last year's move to cut interest rates by 25 basis points to 0.25%.
In the second quarter of 2017 real GDP grew by a quarterly 0.3%, and by 1.7% year on year, according to the Office for National Statistics (ONS). This compared with quarterly growth of 0.2% in January-March.
In August annual inflation measured by the consumer price index including owner occupiers' housing costs (CPIH) rose to 2.7%, from 2.6% in July.