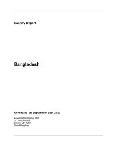 Country Report Bangladesh September 2017
September 2017 •
Report ID: 2557511 •
Format: PDF
Outlook for 2017-21


The ruling Awami League party will dominate parliament until the 2019 general election-which it is well placed to win-owing to patronage at local level and the fact that it has overseen a solid economic performance.
The risk of political unrest will increase in the run-up to the 2019 parliamentary election. Potential flashpoints include wages for readymade-garment workers and concerns over the rising cost of living.
Small-scale, religiously motivated violence will continue in 2017-21, and there is a strong possibility of further armed attacks. This will have a negative effect on foreign investment, but overall political stability will be maintained.
Increased spending on infrastructure projects and slow progress on expanding the tax base will result in a budget deficit equivalent to 4.9% of GDP on average in fiscal years 2017/18-2020/21 (July-June).
Real GDP is forecast to grow by an average of 6.8% a year in 2017/18-2020/21, bolstered by strong private consumption and investment. Government spending, particularly on infrastructure, will also support economic growth.
The current-account will, on an average annual basis, record a deficit equivalent to 0.3% of GDP during 2017-21 owing to increased imports of inputs for infrastructure development.


Review


According to the UN high commissioner for refugees, around 300,000 refugees have crossed into Bangladesh from Myanmar since military operations were ramped up in the state of Rakhine from August 25th.
According to the Bangladesh Bureau of Statistics, real GDP grew at a rate of 7.2% in 2016/17.
On August 28th the government signed a financing agreement worth US$515m with the World Bank for the improvement of health and nutrition services in the country.
On August 17th the government reduced rice import duties for the second time since June owing to concerns about a food shortage in the wake of latest floods, which have resulted in loss of over 618,000 ha of farmland and the death of over 140 people across the country since mid-July.
According to data released by Bangladesh Bank (the central bank), in July exports rose by 26.5% year on year, to US$3.2bn, while imports rose by 37%, to US$4.5bn.
On August 2nd Cambodia's commerce minister, Pan Sorasak, and Bangladesh's food minister, Qamrul Islam, signed a deal for Bangladesh to purchase 1m tonnes of Cambodian rice over 2017-22.