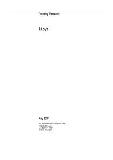 Country Forecast Libya May 2018
May 2018 •
Report ID: 265218 •
Format: PDF
Policy towards private enterprise and competition
2018-19: A new law on public-private partnerships aimed at broadening the financing options for Libya's development and infrastructure projects is delayed as the country continues to prioritise security matters.
2020-22: A third mobile-phone licence is awarded. However, the government continues to prioritise current expenditure over infrastructure investment (although the latter starts to show some acceleration from a low base).
Policy towards foreign investment
2018-19: Infrastructure development plans are delayed, largely because of continued civil conflict in large parts of the country, including Tripoli, Benghazi and the Sirte Basin oilfields, reducing opportunities for foreign investors.
2020-22: The next bidding round for exploration licences offers easier terms to make the oil sector more attractive to investors, but foreign companies are deterred by the security environment (as some lower-level fighting persists).
Foreign trade and exchange controls
2018-19: The Central Bank of Libya increases restrictions on foreign-currency transfers abroad.
2020-22: Negotiations over new preferential trade agreements are begun with European governments and the US. The central bank moves to ease foreign-exchange controls, albeit at a gradual pace.
Taxes
2018-19: No substantial changes to the tax system are likely until a permanent government is installed.
2020-22: Taxation is simplified and spread more evenly between higher- and lower-income brackets.
Financing
2018-19: The entry of foreign banks remains restricted until a new constitution has been drafted.
2020-22: Parliament and central bank work on legislation to add clarity on the transition to a sharia-compliant banking system. Given the complexity of this issue, a conventional banking system is likely to run parallel to an Islamic one.
The labour market
2018-19: The state continues to be the largest employer. Salary rises are dependent on availability of government funds.
2020-22: Increased government spending on infrastructure becomes the primary source of employment.
Infrastructure
2018-19: Investment in new infrastructure is delayed as institutional capacity remains limited and focus remains on security.
2020-22: Some expansion is initiated in the electricity, water, healthcare and transportation sectors, providing opportunities for local and foreign investors.
Technological readiness
2018-19: Some progress is made in implementing mobile payments schemes, but political instability prevents further technological progress.
2020-22: A more stable government facilitates a gradual move towards incorporating e-government.