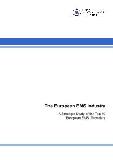 The European EMS Industry - An Analysis of the Top 50 European EMS Providers
January 2016 •
132 pages •
Report ID: 2818867 •
Format: PDF
In-depth strategic analysis of the Top 50 EMS providers in Europe plus the Top 50 European-owned companies based on global revenues. The report provides a rankinigs based on revnues and in-depth profiles including a review of their European operations, latested developments and leading financial indicators.

Although made up of over 1,000 companies, the European industry is dominated by a small number of Global players with the Top 3 – Foxconn, Flex and Jabil – accounting for around 44.5% of revenues in 2014, nearly 90% from plants in CEE focused on the 3C segment. Group 1 Global EMS providers still have a strong focus on high volume products and have the majority of their European manufacturing operations now located in CEE/North Africa. Foxconn, with a 25% share of the European and a 43% share of the CEE/North Africa EMS market in 2014, remains committed to Europe and certainly to its operations in the Czech Republic with additional investments announced in 2015. Approaching 75% of the total sales (Euro 19.1 billion) are achieved by the leading 50 companies or 5% of the total number. We are expecting that there will be further consolidation across the industry due to the downward price pressure, slow economic growth and requirement to broaden and deepen the design, development and aftercare services to customers.

In terms of influence outside of the major global companies there a small number of EMS providers in Western Europe which hold a significant manufacturing presence in more than one country/region with the focus on gaining a presence in the German market The Finnish company Scanfil's 2015 acquisition of the Swedish EMS provider PartnerTech has propelled the company into third in the ranking of leading European-owned EMS companies, extensive operations in Scandinavia being supported by a plant in Germany and low cost manufacturing in CEE and China. Neways has also strengthened its position through acquisition following the 2014 purchase of the German company BuS Elektronik. The Seventh Edition of The European EMS Industry - A Strategic Analysis of the Top 50 EMS Providers provides a detailed overview of the key companies impacting the European EMS industry. This comprehensive report provides:-

- A ranking of the Top 50 European EMS providers in 2014.
- A ranking of the Top 50 European-owned EMS providers based on global revenues.
- Detailed profiles of the Top 50 European EMS providers and Top 10 overseas including an outline of their operations and latest company developments.
- A summary of key European EMS acquisitions and strategic alliances for the Top 50 European EMS providers
- An overview of the European EMS market for 2014-2019.
- A directory of European manufacturing locations for the leading EMS providers serving the European market.