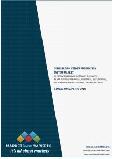 Distribution Feeder Automation System Market by Application, by Products, and by Region - Global Trends and Forecasts to 2019
April 2015 •
168 pages •
Report ID: 2861541 •
Format: PDF
This report estimates the distribution feeder automation system market, in terms of revenue. The market has been segmented into application (commercial, industrial, & residential), product (hardware, software, & services), and region (the Americas, Europe, Asia-Pacific, and Rest of the World).

Automation of distribution feeders in a power distribution network is essential today to achieve faultless power system and lighten the world with improved power distribution network. Distribution feeder automation includes feeder dispatch and control center, feeder remote terminal unit, and feeder terminal unit. The functions of a distribution feeder automation system includes monitoring, control, SCADA (supervisory control and data acquisition), and FDIR (fault, detection, isolation, and restoration).

Various secondary sources such as encyclopedia, directories, and databases have been used to identify and collect information useful for this extensive commercial study of the global distribution feeder automation system market. The primary sources, experts from industry and suppliers, have been interviewed to obtain and verify critical information as well as assess future prospects of the distribution feeder automation system market.

The Americas market held the largest share in 2013, at around 45%. In the Americas, the U.S. is the largest market and is expected to continue its dominance in the distribution feeder automation system industry. Across other regions, China is a leading market in Asia-Pacific due to several manufacturing and construction industries growing in this country, which is increasing the electricity usage compared to other industries such as mining, transport, residential, cement, and steel.


This report also includes an analysis of the value-chain, Porter's Five Forces analysis, competitive landscape, and premium insights on the distribution feeder automation system market.

Leading players of this industry have been profiled with their recent developments and other strategic activities. These include Eaton Corporation PLC (Ireland), Advanced Control Systems Inc. (Georgia), ABB Ltd. (Switzerland), G&W Electric (U.S.), Schneider Electric SE (France), Crompton Greaves Ltd. (India), Siemens AG (Germany), Moxa (China), and Schweitzer Engineering Laboratories (U.S.).