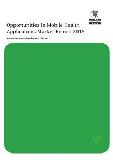 I&R - Opportunities In Mobile Health Applications Market Report 2015
June 2015 •
53 pages •
Report ID: 3050513 •
Format: PDF
The rapid development of personal communication devices, such as mobile phones and tablets, has created a great opportunity for healthcare delivery methods. Near-ubiquitous mobile networks are allowing carers to diagnose, monitor, and communicate with patients with unprecedented speed and efficacy.
The emergence of low cost smartphones has allowed many users access to app stores, which are now home to over 100,000 unique mHealth apps. These range between freemium apps geared around diet and daily fitness routines, scaling up to costly premium apps with elaborate clinical reference points, images, diagnostic, and monitoring functions.

This has allowed many professionals and governments, especially in emerging markets are to adopt mHealth as a complementary strategy for strengthening healthcare systems and increasing populations' access to healthcare. In developed markets, governments are choosing to utilise Telecare to improve healthcare delivery efficiency, aiming to reduce the burden on overstretched national health services and public finances.

Investment & Research has determined that the value of the global mHealth market will reach $11.05bn in 2015.

Why you should buy The mHealth Market 2015

- 53 pages of comprehensive analysis
- 8 tables, charts, and graphs quantifying the market in detail
- Global mHealth market forecasts between 2015 and 2020
- mHealth SWOT analysis
- 7 case studies covering stakeholders in the market across the world, this report gives examples of all five areas of Telecare, highlighting projects in action.

You can order this report today and gain an understanding of how to tap into the potential of this market by ordering The mHealth Market Report 2015.