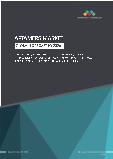 Aptamers Market by Type, Application, Technology & by End Users - Global Forecast to 2020
June 2015 •
133 pages •
Report ID: 3121114 •
Format: PDF
The global aptamers market is expected to reach $244.93 million by 2020 from $107.56 million in 2015, growing at a CAGR of 17.89% between 2015 and 2020. The aptamer type segments included in this report are DNA-based aptamers, RNA-based aptamers, and XNA-based aptamers. Based on applications, the report is segmented into diagnostics, therapeutics development, R&D, and other applications. Diagnostics applications will hold the largest share of the aptamers market in 2015. The therapeutics development application is expected to be one of the fastest-growing applications between 2015 and 2020.

The geographic segments included in this report are the Americas, Europe, Asia, and the Rest of the World (RoW). The geographic analysis reveals that the Americas are expected to account for the largest share in the global aptamers market in 2015. Europe is expected to register the fastest growth.

Market growth is majorly driven by the availability of R&D investments in biotechnology and pharmaceutical industries. Furthermore, the patent expiration of systematic evolution of ligands by exponential enrichment technology (SELEX), technological advancements, and the low cost and high efficiency of aptamers in binding to large molecules as compared to antibodies will aid the growth of the global aptamers market.

A combination of bottom-up and top-down approaches was used to calculate the market sizes and growth rates of the global aptamers market and its subsegments. All percentage shares, splits, and breakdowns were determined using secondary sources and verified through primary sources. All possible parameters that affect the markets covered in this research study have been accounted for, viewed in extensive detail, verified through primary research, and analyzed to get the final quantitative and qualitative data. Primary interviews with key opinion leaders were also used to determine the percentage shares of each subsegment and the relative differences in growth rates. The report provides qualitative insights about growth rates, and market drivers for all important subsegments. It maps market sizes and growth rates of each subsegment and identifies segments poised for rapid growth in each geographic segment. The report also includes company profiles of market leaders.

Reasons to Buy the Report:
The report will enable both established firms and new entrants to gauge the pulse of the market and help them make important strategic growth decisions.

The report provides insights on the following:
- Product Development: Product portfolios of the top players in the aptamers market.
- Competitive Assessment: In-depth assessment of the business segments and product portfolios of the leading players in the aptamers market.
- Market Development: Comprehensive information about lucrative emerging markets. The report analyzes the market for various aptamers products across geographies.