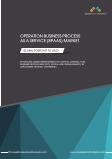 Operation Business Process as a Service Market by Process, SCM, Business Process Analytics, Digital Asset Management, Deployment - Global Forecast to 2020
June 2015 •
149 pages •
Report ID: 3147262 •
Format: PDF
Operation business process as a service (BPaaS) is a form of business process outsourcing (BPO) that is employed through a cloud computing service model. BPaaS and cloud business process management solutions combine traditional BPO solutions with cloud computing technology to deliver value added business outcomes with limited IT infrastructure. These solutions help in managing the fragmented businesses of an enterprise across the regions from a central node, while also ensuring flexibility, in terms of accessibility, deployment, and scalability of the solutions. BPaaS is an outcome of evolution of cloud services that enable the automation of business processes to assure the consistency of business outcomes. The benchmarking criterion of BPaaS and cloud BPM solutions remains an ambiguity amongst organizations due to privacy, security, and compliance concerns; however, enterprises are slowly realizing the benefits of these solutions. This has resulted in the increased application of operation BPaaS solutions across various verticals.

Global adoption trends and pervasiveness across most verticals are clear indications of substantial growth opportunities on the global BPaaS market, as early adopters have realized the various advantages of this cloud-based service. Business process as a service can be further segmented into operation BPaaS, sales BPaaS, human resources BPaaS, finance & accounting BPaaS, marketing BPaaS, and others. Operation BPaaS solutions support organizations across various verticals to effectively create a network amongst employees, partners, distributors, suppliers, and other entities in a business ecosphere and deliver high value process outcomes. Operation BPaaS redefines the traditional business process outsourcing (BPO) solutions by blending it with cloud technology.

In 2015, Accenture lead the global operation BPaaS market, followed by Capgemini, Cognizant, SAP, Genpact, Fujitsu, and others.

The report has been segmented into vertical, deployment model, end user, process, service, and geography. The vertical segment has been further categorized into BFSI, telecommunication & information technology, energy & utility, healthcare, retail & wholesale distribution, transportation & logistics, manufacturing, aerospace & defense, government, and others. The deployment model has been segmented into hosted and on-premises. The end user segment has been categorized into enterprise and small and medium business. The process is bifurcated into five different segments digital asset management, order management, supply chain management, industry operations, business process analytics, and others. Based on service, the market has been segmented into design and consulting, system integration, support and maintenance, and others. The geography segment covers North America, Europe, Asia-Pacific, Middle East and Africa, and Latin America.