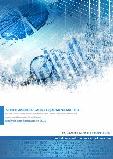 North America Galley Equipment Market by Type , Application , and Geography - Analysis and Forecasts to 2019
April 2015 •
91 pages •
Report ID: 3147281 •
Format: PDF
The galley equipment market research report includes a detailed study of the galley equipment in marine and aviation industry. This report provides the market analysis over the next six years. It discusses the industry, market, and technology trends that currently prevail in the galley equipment market.

The market report analysis categorizes the North American market on the basis of types, technology, applications, and country analysis. The market is valued at $526.3 million in 2014 and is expected to reach $638.7 million by 2019. Among all the countries, the U.S. is dominating the North American galley equipment market. The U.S market was valued at $440.7 million in 2014 and is projected to reach $523 million by 2019 at a CAGR of 3.6%.

An in-depth market share analysis, in terms of revenue, of the leading companies is also included in the report. These numbers are arrived at based on key facts, annual financial information from SEC filings, and annual reports. A detailed market share analysis of the major players in the North American galley equipment market has been covered in this report. The major companies dominating this market are B/E Aerospace, Zodiac Aerospace, Bucher Group, and Diehl Stiftung & Co. Kg.

Key findings:

- North America has the highest fleet of commercial aircraft and the demand for new commercial aircraft and business jet is on the rise in this region. Thus, with increasing demand for commercial and business jets, the requirement of galley in aircraft is on the rise.

- The cruise industry in North America enjoyed systematic growth in the past and with more passengers opting for cruise travel in the region, new cruise ships with increased capacities are expected to be delivered in the future. Owing to the rising capacity of cruise ships, the market for marine galley equipment is expected to grow considerably by 2019.

- U.S. is the fastest growing market in the North American region. The prime drivers of the galley equipment market in the U.S. are rise in corporate profits and substantial economic recovery. These factors have contributed to the hike in demand for commercial aircraft and business jets. The major driver of the marine galley equipment market in the U.S. is the rising fleet size of cruise ships, along with modernization of defense surface vessels.