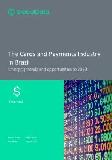 The Cards and Payments Industry in Brazil: Emerging trends and opportunities to 2020
August 2017 •
58 pages •
Report ID: 3149316 •
Format: PDF
The Cards and Payments Industry in Brazil: Emerging trends and opportunities to 2020

Summary
In 2016, debit card penetration in Brazil stood at 159.6, the highest in comparison to its regional peers - Chile with 122.2, Mexico with 113.3, Venezuela with 92.4, Argentina with 91.5, and Colombia with 49.6. Peru had the lowest penetration with 47.3. Despite the country's economic progress, cash remains the primary payment instrument, as a portion of population - especially in rural areas - still do not have access to basic financial services. However, payment cards are emerging as a substitute for cash, as the government and banks begin to provide basic financial access to the unbanked population.

Pay-later card penetration in Brazil measured 83.5 cards per 100 individuals in 2016, compared to its peers: Argentina (87.0), Chile (74.4), Venezuela (59.1), Colombia (30.4), Mexico (25.1), and Peru (21.8). The growing lower- and middle-class populations have fueled credit card penetration. In November 2010, the National Monetary Council made it compulsory for banks to provide basic credit cards with lower annual fees than cards offering benefits or rewards such as air miles or insurance cover.

Brazilian e-commerce market posted a review-period (2012-16) compound annual growth rate (CAGR) of 21.42%, growing from $7.40bn (BRL24.10bn) in 2012 to $16.10bn (BRL52.40bn) in 2016, and is anticipated to reach $23.10bn (BRL75.10bn) by 2020. Payment cards remain the most popular payment method among online shoppers, accounting for 66.3% of the total e-commerce transaction value in 2016.

Banco Central do Brasil, the country's central bank, has simplified the process of opening a bank account, facilitating access to basic banking products such as bank accounts and debit cards. Accounts can be opened by individuals free of charge in government-owned banks, with no maintenance fee charged. Furthermore, the government has introduced the Bolsa Familia program to help low-income families.

The report "The Cards and Payments Industry in Brazil: Emerging trends and opportunities to 2020" provides detailed analysis of market trends in the Brazilian cards and payments industry. It provides values and volumes for a number of key performance indicators in the industry, including credit transfers, payment cards, cash, direct debits, and cheques during the review-period (2012-16e).

In particular, this report provides the following analysis -
- Current and forecast values for each market in the Brazilian cards and payments industry, including debit, credit and charge cards.
- Detailed insights into payment instruments including credit transfers, cash, cheques, direct debit, and payment cards. It also, includes an overview of the country's key alternative payment instruments.
- E-commerce market analysis and payment methods.
- Analysis of various market drivers and regulations governing the Brazilian cards and payments industry.
- Detailed analysis of strategies adopted by banks and other institutions to market debit, credit and charge cards.

Companies mentioned in this report: Caixa Econômica Federal, Banco Bradesco, Banco do Brasil, Banco Santander, Itaú Unibanco, Visa, Mastercard, American Express, Diners Club, Hipercard, Elo, Cielo, Banrisul.

Scope
- To increase credit card use, the National Monetary Council has implemented a number of measures in the form of reducing fees and interest rates on credit card transactions. Most recently in January 2017, it introduced restrictions to revolving credit lines offered by credit card issuers. Under the new rule, whenever credit card holders enter a revolving credit pattern and are unable to pay off the debt within the first 30 days, the bank has to offer a credit instalment option to pay off the outstanding balance, with lower interest rates. Card issuers were given a deadline of April 3, 2017 to comply with the rule.
- The uptake of alternative payments is gradually increasing in Brazil, with banks and payment solution providers launching products and services in the market. Samsung launched its mobile payment service Samsung Pay in Brazil in July 2016. The service is supported by major banks such as CEF, Banco do Brasil, Brasil Pré-Pagos, Porto Seguro, and Banco Santander Brasil. Visa launched the Visa Checkout service in Brazil in October 2015. Visa Checkout is a payment solution that stores users' payment and shipping details, providing faster checkout on partner merchants' websites or apps. Similarly, Mastercard launched its Masterpass payment solution in Brazil in July 2015.
- The emergence of digital banks is likely to accelerate a shift towards electronic payments in Brazil. Brazil-based fintech company Contro.ly launched its mobile-only bank Neon in July 2016. Customers use facial recognition to access their account, as well as to perform additional transactions such as transfers and payments. When customers sign up, they have to enroll in biometric authentication with their mobile phone by taking a selfie, which will be used for future authentications. Previously Nubank, the country's first mobile-only bank, was launched in September 2014, which also enables consumers to conduct banking transactions through their mobile phones.

Reasons to buy
- Make strategic business decisions, using top-level historic and forecast market data, related to the Brazilian cards and payments industry and each market within it.
- Understand the key market trends and growth opportunities in the Brazilian cards and payments industry.
- Assess the competitive dynamics in the Brazilian cards and payments industry.
- Gain insights into marketing strategies used for various card types in Brazil.
- Gain insights into key regulations governing the Brazilian cards and payments industry.