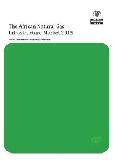 I&R - The African Natural Gas Infrastructure Market 2015
August 2015 •
145 pages •
Report ID: 3170269 •
Format: PDF
Gas infrastructure allows for raw natural gas produced at the wellhead to be transformed into the pure, safe substance used by consumers and business throughout the world. According to the World Energy Council (WEC), global demand for natural gas is likely to increase by 44% between 2007 and 2035 as a combination of an increasing global population, economic growth, significant natural gas reserves and a move away from more polluting energy sources to produce cleaner gas power, will help to drive growth in the natural gas development and processing industry. Consumption growth in between 2015 and 2020 will be largely driven by demand in the industrial and electric power sectors. This will create substantial opportunities for companies involved in the gas processing infrastructure market, as new facilities will need to be constructed and existing facilities upgraded to process increasing quantities of gas.

In 2015, the key demand drivers would be industrial and power plants. Residential and commercial demand will drop in 2015 and 2016.Cheaper natural gas, compared to coal, is the primary demand driver from power generators. However, the strong dollar and oversupply factors will put downward pressure on natural gas in the short term, but, cold weather estimates and strong demand could push natural gas beyond the important resistance of US$2.75 per MMBtu.

This report offers an examination of this important market to 2020, providing detailed market forecasts for each of the regional markets and offering in-depth analysis of the opportunities and challenges facing companies in the gas processing infrastructure market throughout the world. The various drivers and restraints of the market are evaluated in order to provide readers with specific insights into the future direction of the industry and where the greatest opportunities are likely to be found.

Why you should buy The African Natural Gas Infrastructure Market 2015

- 145 pages of comprehensive analysis
- 115 tables, charts, and graphs quantifying the market in detail
- African natural gas infrastructure market forecasts between 2015 and 2020
- Five year market forecasts of the Global Gas Processing Infrastructure Market:
- Forecasts for the 8 leading countries and Rest of Africa (RoA) markets within the African gas infrastructure market:

- Nigeria
- Algeria
- Egypt
- Ghana
- Angola
- Mozambique
- Tanzania
- South Africa
- Rest of Africa

- A SWOT analysis that examines the African Natural gas infrastructure market
- 21 key companies identified and profiled operating within the African gas market.

You can order this report today and discover the latest market trends and uncover sources of future market growth for the African gas infrastructure industry and gain an understanding of how to tap into the potential of this market by ordering The African Natural Gas Infrastructure Market 2015.