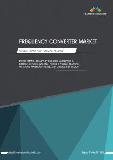 Frequency Converter Market by Type, by End-User, and by Region - Global Forecast and Trends to 2020
August 2015 •
171 pages •
Report ID: 3212475 •
Format: PDF
Frequency converter market growth has been drive by the increasing demand for aerospace & defense infrastructure, and increasing industrial automation and upgradation of oil & gas, power, manufacturing plants. Also, increasing import and export trade activities of manufactured goods across nations worldwide are expected to boost the demand of frequency converters in process industry.

Electrical machineries used in manufacturing facilities operate at different power frequencies, and to run them various frequency converters are used. Emerging economies such as China, India, Brazil, Argentina, Saudi Arabia, and others offer promising growth opportunities for the frequency converter market.

The report "Frequency converter Market, By Type (Static, Rotary), By End-User (Aerospace & Defense, Process Industry, Power & Energy, Traction, Oil & Gas, Marine/Offshore), And By Region (North America, Latin America, Asia-Pacific, Europe, and the Middle East & Africa) – Global Forecast and Trends to 2020", defines and segments the global frequency converter market with analysis and forecasting of the global market size (USD million). The report also touches on various important aspects of the market. These include analysis of the value chain, drivers, restraints, opportunities, challenges, Porter's Five Forces model, and the competitive landscape.

Europe Dominating the Frequency Converter Market

Europe dominated the frequency converter market in 2014, followed by North America. The increasing aerospace & defense and oil & gas activities, growth of process industry in European region, along with introduction of high-speed rails, and rising trend of using advanced equipment for traction substations, are driving the growth of frequency converter in this market. Growing infrastructure and process industry modernization in the U.K., Germany, Russia, and France, are the key factors to increase the demand for frequency converters in Europe. The market in Europe is projected to grow at a steady rate in frequency converter market, with the U.K. and Germany showing the fastest growth within the region.