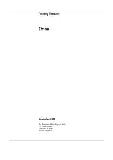 Country Forecast China November 2017 Updater
November 2017 •
Report ID: 325638 •
Format: PDF


The president, Xi Jinping, strengthened his position emphatically at the 19th national congress of the Chinese Communist Party (CCP), which closed on October 24th 2017. The Economist Intelligence Unit expects Mr Xi to use this enhanced power to maintain his conservative political agenda while overseeing a more aggressive effort to tackle systemic risks to the economy.
In a break with convention, no successor young enough to succeed Mr Xi was appointed to the top-level politburo standing committee at the congress. Our baseline assumption is that the president plans to delay his scheduled retirement beyond 2022, but he could also choose to elevate an ally as heir-designate closer to the date, such as the Chongqing CCP secretary, Chen Min'er.
Mr Xi aims to establish China as a "leading global power". The country will deepen its engagement with international policy issues and economic projects designed to deepen its diplomatic influence, such as the Belt and Road Initiative. This will be accompanied by greater assertiveness, with China's military development set to generate tensions with neighbouring countries and the US.
In the near term we expect economic policymakers to focus on reducing risks associated with a rapid rise in corporate debt. The long-term agenda is dominated by the government's supply-side structural reform programme, which aims to trim industrial overcapacity and move the economy up the value chain. However, we believe that reform of state-owned enterprises will prove ineffective, capping productivity gains.
We assume that the authorities will tolerate weaker real GDP growth than the 6.5% targeted rate in the 13th five-year plan period (2016-20), as they prioritise the effort to defuse debt risks. We forecast that economic growth will average 5.5% a year in 2018-22, with the slowdown concentrated in investment.
The authorities have adopted a more interventionist exchange-rate policy aimed at maintaining a stable renminbi. This ought to limit the scale of currency depreciation in the forecast period, although we still expect some weakening in the renminbi's value. Its weakest point is expected in 2020, when it is forecast to average Rmb7.24:US$1.
The size of the current-account surplus will decline, averaging the equivalent of 0.8% of GDP in 2018-22. Growth in goods exports will average 5.5% a year, with imports rising by 5.4%. The services deficit will expand markedly, mainly owing to demand for overseas travel services.