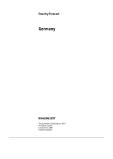 Country Forecast Germany November 2017 Updater
November 2017 •
Report ID: 325649 •
Format: PDF


In the September 24th election the centre-right Christian Democratic Union (CDU) won the largest share of the vote and it is now leading negotiations to form a coalition with the liberal Free Democratic Party (FDP) and The Greens. Angela Merkel will thus remain in office as chancellor for a fourth term. Her former coalition partner, the Social Democratic Party (SPD), intends to lead the opposition.
The coalition negotiations will be difficult and protracted, given deep ideological differences between the parties. The CDU's smaller Bavarian sister party, the Christian Social Union (CSU), will push for a shift to the right on migration; the FDP will want tax cuts to promote business investment; and The Greens will require material concessions to their environmental agenda.
The far-right populist Alternative for Germany (AfD) won almost 13% of the vote in the election, enabling it to enter the Bundestag (the lower house of parliament) for the first time. It will be a fractious presence, liable to in-fighting, and will broaden the range of political views present in the Bundestag.
Germany will continue to play a substantial role on the global stage, shaping Europe's response to the actions of the US, Russia and Turkey. Greater Franco-German co-operation and EU reforms are likely under Emmanuel Macron, the French president, but Mr Macron's plans for euro zone reform will face significant resistance in Germany, particularly from the FDP.
The Economist Intelligence Unit expects the incoming government to take a looser fiscal stance, after the budget recorded a surplus for the third consecutive year in 2016. Tax cuts will be combined with greater public investment spending.
We expect real GDP growth of 2.2% this year and 1.9% in 2018, reflecting strongly expansionary conditions in manufacturing and services, and an average of 1.6% in 2019-22. Domestic demand will continue to drive growth, but private consumption will lose momentum slightly as rising inflation offsets the gains to real incomes from a tightening labour market.
We estimate consumer price inflation at 1.7% in 2017, driven by higher global energy prices, and forecast an annual average of 1.7% in 2018-22 as domestic demand pressures rise gradually, balancing out weak energy price growth.
Germany's large, and often controversial, current-account surpluses will persist, although we expect them to decline gradually in 2018-22 as import demand strengthens, from 8.3% of GDP in 2016 to 5.4% in 2022.