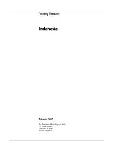 Country Forecast Indonesia October 2017 Updater
October 2017 •
Report ID: 325678 •
Format: PDF


The president, Joko Widodo (known as Jokowi), will serve out his full five-year term in office. He will run for re-election in 2019, which he is likely to win. Jokowi will still face a stronger challenge from Prabowo Subianto, the leader of the opposition Great Indonesia Movement Party (Gerindra) in the House of Representatives (DPR, the legislature), who lost to Jokowi in the 2014 ballot.
Jokowi's administration has been successful in maintaining economic stability and reducing various structural bottlenecks. However, other serious productivity drains such as stringent labour and local government laws, which are more politically difficult to tackle, are likely to remain unaddressed.
Bank Indonesia (BI, the central bank) is adopting an accommodative monetary policy stance to support economic growth. Additional room for further policy easing in 2018-19 will be limited owing to a significant narrowing in the interest-rate differential between Indonesia and developed economies, particularly the US. As such, we expect BI to adopt a more cautious stance in the forthcoming years.
Economic growth will remain below potential owing to the slow pace of structural reforms and depressed global demand for commodities, but the government's infrastructure drive should help to keep investment relatively stable. Steady private consumption will remain a key pillar of the even growth rates. We forecast that real GDP growth will average 5.1% a year in 2018-22.
The rupiah will face headwinds in the early part of 2018-22, owing to our forecast of a sharp slowdown in China's economy in 2018, as well as continued rises in US interest rates. We expect the rupiah to appreciate modestly in 2020-22 as investor confidence returns and external demand conditions recover.
The current account will remain in the red owing to a large and widening primary income deficit. We expect borrowing costs to increase in line with monetary policy tightening in the US. The merchandise trade account will continue to record a surplus, but it will remain far below historical highs and too small to offset deficits on the services and primary income accounts. We expect the current-account shortfall to average the equivalent of 1.9% of GDP in 2018-22.