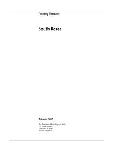 Country Forecast South Korea October 2017 Updater
October 2017 •
Report ID: 325696 •
Format: PDF


Moon Jae-in of the liberal Minjoo Party won the presidential election in May 2017, following the impeachment of his predecessor, Park Geun hye, in March. The Economist Intelligence Unit expects him to serve out his full term, which is constitutionally limited to five years.
With politics remaining heavily polarised, the next parliamentary election, in 2020, is unlikely to improve the legislative set-up, leaving no party in the National Assembly (parliament) with the majority required to pass laws unilaterally. Nevertheless, with a fairly able bureaucracy, policy implementation will remain efficient.
We expect security ties between South Korea and the US to remain strong owing to the continued ramping-up of nuclear capabilities by North Korea. Meanwhile, it will remain difficult for South Korea to regard China as a reliable security partner, owing to the latter's reluctance to crack down on the North and opposition to South Korea's military counter-measures.
The Moon Jae-in administration will pursue an ambitious demand-driven economic agenda through increased government spending and redistributive policies. Despite strong momentum to curb the role in the economy of the chaebol (family-run conglomerates), and renewed support for small and medium-sized enterprises, we expect the dominance of these enterprises to continue over the forecast period.
The Bank of Korea (BOK, South Korea's central bank) will maintain a loose monetary policy stance in 2018-20 in order to support economic growth. As growth momentum picks up in 2021-22, we expect the BOK to initiate progressive policy tightening at the end of the forecast period.
Real GDP will grow by an annual average of 2.6% in 2018-22. In the absence of a significant rebalancing away from exports and towards domestic demand, the economy will remain hostage to weakness in global trade. Increasing indebtedness among households, along with subdued wage growth in the dominant manufacturing sector, will act to constrain private consumption.
The current-account balance will remain in the black even as exports remain under pressure owing to a slowdown in the economies of China and the US in 2018 and 2020, respectively. South Korea will also face greater competition on certain key export items from peers in the region, including China.