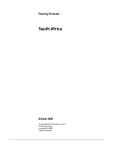 Country Forecast South Africa October 2017 Updater
October 2017 •
Report ID: 325775 •
Format: PDF


The African National Congress (ANC) will remain the dominant political force and is likely to retain power at the next election in 2019, albeit with a smaller majority than in 2014. The president, Jacob Zuma, remains under pressure because of a series of corruption scandals and the ANC's relatively poor showing in municipal elections in 2016.
The ANC is deeply divided into pro- and anti-Zuma factions, which are evenly matched, helping to explain Mr Zuma's survival. The ANC's five-year electoral summit in December, when Mr Zuma will stand down as party leader (but not as national president), will have a decisive influence on the political scene.
Policymakers face the difficult task of boosting economic growth within a context of global uncertainty, while avoiding macroeconomic imbalances. Adding to the challenge, the loss of South Africa's investment-grade credit rating will dent confidence and limits opportunities for monetary loosening. Fiscal policy is now less certain, but any relaxation of spending restraints, despite offering a short-term stimulus, would risk higher debts and taxes.
The main medium-term challenge is to overcome structural constraints to faster growth, such as infrastructure bottlenecks and skills shortages. Targeted industrial incentives will therefore stay in place and infrastructure investment will remain a priority, although wasteful spending poses a threat.
Compliance with black economic empowerment (BEE) targets will remain a challenge for corporates, especially given ongoing changes to the legal framework. The presidency's call for "radical economic transformation" will raise the level of policy uncertainty, especially in regard to BEE and land reform, to the detriment of private investment.
We expect a modest acceleration in real GDP growth to 1.9% in 2018, from a provisional 0.9% in 2017, although the rate of expansion will remain subdued, held back by high unemployment and elevated levels of political and policy uncertainty, which will dampen business sentiment and investment. Growth will ease again to 1.7% in 2019 because of election-related uncertainties, before quickening to about 2.4% a year in 2020-22, underpinned by the completion of major infrastructure projects. Electricity shortages are unlikely to reappear during the forecast period.
Inflation will retreat to 5.2% in 2018, a three-year low, from 5.6% in 2017, helped by subdued demand and cheaper oil. Thereafter, inflation will average 5.6% during the remainder of the forecast period.