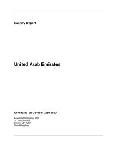 Country Report United Arab Emirates October 2017
October 2017 •
Report ID: 325777 •
Format: PDF
Outlook for 2018-22


We expect the UAE to remain stable. Given the poor health of the emir of Abu Dhabi, Sheikh Khalifa bin Zayed al-Nahyan, a succession to Sheikh Mohammed bin Zayed al-Nahyan is possible before 2022, but will be smooth.
The UAE will retain its assertive foreign policy, including military involvement in Yemen and Syria. The dispute with Qatar will have a modest direct impact on the UAE but will damage commercial links and affect regional relations.
OPEC-mandated oil production cuts, which have been extended to early 2018, and the stagnation of oil prices at a modest level will keep the fiscal position in deficit throughout 2018-22, despite new revenue-raising measures.
The federal authorities and individual emirates, particularly Abu Dhabi, will prioritise further diversification away from their reliance on hydrocarbons, with government investment efforts focused on non-oil sectors.
Oil prices will remain muted, constraining liquidity growth, but oil production capacity increases and the strength of the non-oil economy will boost prospects, with GDP growth averaging 3.6% a year in 2018-22.
Export earnings will pick up slowly in 2018-20 and the current account will remain in surplus throughout the forecast period, albeit only just in 2020-21.


Review


Russian officials have hinted that the UAE plans to sign major defence contracts with Russia, but no details have been released and the UAE would not countenance any purchases that would harm its close ties with the US.
The UAE hosted the Egyptian president, Abdel Fattah el-Sisi, in late September for discussions on counterterrorism; bilateral ties remain extremely close.
UAE schools will adopt a new common education system that aims to align teaching to delivering the government's Vision 2021 economic goals.
The state-owned Abu Dhabi National Oil Company (ADNOC) could list more than 10% of its fuel retail business in early 2018.
The Abu Dhabi authorities raised US$10bn in early October from a series of bond offerings, with maturities ranging up to 30 years, in their first foray into the international markets since April 2016.
The purchasing managers' index rose to its highest level in 30 months in August but has since slipped back as economic sentiment remains fragile. However, non-oil foreign trade and re-exports are growing strongly.
Mubadala, an Abu Dhabi-based state investment fund, reported net profits of Dh4.1bn (US$1.1bn) for the first half of 2017 in the first set of financial results following its merger with the International Petroleum Investment Company.