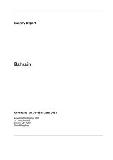 Country Report Bahrain October 2017
October 2017 •
Report ID: 325794 •
Format: PDF
Outlook for 2018-22


The royal family will remain in power in 2018-22. Nonetheless, escalating sectarian tensions, steep cuts to government spending and a crackdown on the mainstream opposition are likely to provoke major civil unrest.
Low oil prices will force the government into greater spending restraint in the near term. Yet the weakness of oil prices will ensure the fiscal account stays in deficit throughout the forecast period-although the shortfall will narrow.
The Central Bank of Bahrain will keep the Bahraini dinar pegged to the US dollar. The planned Gulf monetary union will not happen during the forecast period owing to political and technical problems.
We expect real GDP growth to ease to 2% in 2018, as low oil prices depress government consumption, before picking up in 2019-22 owing to additional aluminium and refinery capacity.
The implementation of the Gulf Co-operation Council-wide value-added tax (VAT) will raise inflation to 2.1% on average in 2018. Inflation will average 2.4% in 2021-22 as global commodity prices rise, pushing up import costs.
We estimate a current-account deficit of 4.3% of GDP in 2017. It will average 4.1% in 2019-20 before narrowing to 1.9% of GDP in 2022, as export earnings benefit from added manufacturing capacity and firmer oil prices in 2020-22.


Review


Private-sector opposition forced the postponement of a planned increase in company registration fees, which has been in the pipeline since 2016 from September this year to April 2018.
The US State Department has approved a US$3.8bn arms sale to Bahrain, involving the purchase of F-16 fighter jets, Humvees and anti-tank missiles.
In late August, new regulations that permit crowdfunding loans were issued by the Central Bank of Bahrain (CBB) to help small and medium-sized businesses and start-ups gain access to alternative forms of funding.
Bahrain has issued US$3bn worth of international bonds. The bond issue is made up of three tranches including a 7.5-year US$850m sukuk (Islamic bond) priced at 5.25%, a 12-year US$1.25bn issuance at 6.75%, and US$900m worth of 30-year bonds priced at 7.5%.
The most recent central bank data show foreign-exchange reserves declining in April to US$2.5bn, down from US$2.8bn the previous month.
Inflation accelerated to its fastest pace this year, in year-on-year terms, reaching 2.02% in August. This was up from 1.4% the previous month and an average of 0.84% in the first seven months of the year.