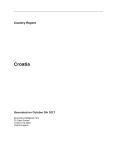 Country Report Croatia October 2017
October 2017 •
Report ID: 325848 •
Format: PDF
Outlook for 2018-22


A new coalition government, led by the conservative Croatian Democratic Union (HDZ), has the support of parts of the liberal Croatian People's Party (HNS). It could prove unstable, and an early election is possible.
Relations with Bosnia and Hercegovina (BiH) and Serbia will fluctuate between hostile and cool. However, relations will not break down completely.
Progress on structural reforms, particularly concerning healthcare and pensions, will remain slow.
The Economist Intelligence Unit forecasts that real GDP will grow at 2.7% per year on average in 2018-22-a significantly improved outlook compared with the years after the global financial crisis. EU fund absorption is improving.
The crisis at the Agrokor conglomerate, Croatia's largest company, poses a significant risk to growth.
Croatia's recent success in reducing the fiscal deficit has enabled it to exit the EU's excessive-deficit procedure. We expect the deficit to widen in 2017 but to remain well within the 3% of GDP ceiling over the forecast period (2018-22).
We expect inflation to average 1.8% per year in 2018­22, up from 1% in 2017.
Public debt will decline to an average of about 70% of GDP in 2018-22-still a high level for an emerging market such as Croatia. Large financing needs leave the country vulnerable to a downturn in foreign investor sentiment.


Review


The government has defused a dispute that had plagued the governing coalition by removing a controversial plaque from Jasenovac, the site of a concentration camp during the second world war.
The dispute between Croatia and Slovenia escalated after Slovenia's leaders indicated that they might block Croatia's application to join the OECD.
In August retail sales volumes increased by 6.4% year on year, after increasing by 5.9% in July.
In the second quarter of 2017 real GDP grew by 2.8% year on year, up from 2.5% in the first quarter.
According to official statistics, in August the unemployment rate was 10.9%-slightly up on the 10.8% recorded in June and July, the lowest rate since 2000.
In August consumer prices increased by 1% year on year, slightly higher than the 0.8% rate in July and 0.7% in June.
In the second quarter the current account recorded a surplus of US$150m, compared with a deficit of US$1.6bn in the first quarter.