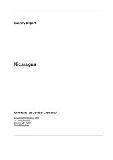 Country Report Nicaragua October 2017
October 2017 •
Report ID: 325901 •
Format: PDF
Outlook for 2018-22


The president, Daniel Ortega, and the vice-president, Rosario Murillo (Mr Ortega's wife), will increase their control over state institutions. Ms Murillo is likely to succeed her husband as president when his term ends in 2021.
Mr Ortega will make gestures towards political reform as a means of staving off internal and external pressure, but these will largely be cosmetic. A lack of adequate supervision will continue to be cause for concern.
Periodic tension with Colombia and Costa Rica will persist. Ties with and aid from Venezuela will weaken as that country's economic crisis worsens. Ties with the US will be complicated by the threat of sanctions.
Fiscal reform will stall. Fiscal consolidation will help narrow the deficit to 1.4% of GDP in 2018. A fall in revenue amid a US slowdown and pre-election spending will drive the deficit higher in 2020-21, but it will narrow thereafter.
Real GDP growth will slow in 2018-20 as external demand for Nicaragua's exports declines amid competitiveness challenges. Growth will recover in 2020-21, driven by a recovery in external demand and election spending.
A recovery in food prices will help to drive inflation slightly upwards in 2018, but it will slow thereafter owing to slowing growth, fiscal retrenchment and monetary tightening.
The current-account will remain firmly in deficit in 2018-22, widening from a low in 2017. Wider services and secondary income surpluses will be offset by a deterioration in the trade deficit as import prices rise.


Review


The Organisation of American States announced in September that it will field a small-scale observation mission for municipal elections in November. The mission will arrive in October and consist of just 60 observers.
The US lower house passed the Nicaragua Investment Conditionality Act in in October, which would tie US approval of multilateral loans to Nicaragua on the government's adherence to democratic norms.
Nicaragua jumped ten places in the World Economic Forum's latest Global Competitiveness Report; it is now ranked 93rd of 137 countries. The country receives high marks for infrastructure and business sophistication.
Real GDP expanded by 4.3% year on year in the second quarter, down from 7.3% in the year-earlier period. The growth owes largely to exports, which surged by 12.1% year on year on exports of coffee, meat and sugar.
The fiscal deficit narrowed to C$448m (US$16m, 0.1% of estimated GDP for 2017) in the first half. This largely owed to curbs on spending, as revenue growth slowed year on year.