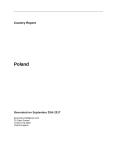 Country Report Poland October 2017
October 2017 •
Report ID: 325912 •
Format: PDF
Outlook for 2018-22


A series of contentious reforms implemented by the government led by the Law and Justice (PiS) party has undermined the country's democratic institu-tions, polarised public opinion and strained Poland's relationship with the EU.
The government's failure to address rule of law issues could lead the European Commission to initiate Article 7 proceedings against Poland. However, The Economist Intelligence Unit expects Hungary to veto such proceedings.
In the event that the Commission does initiate Article 7 proceedings, this could result in sanctions, limits on EU funds and withdrawal of voting rights.
The government has abandoned plans to force the conversion of foreign-currency-denominated loans and will set up a restructuring fund instead.
We estimate that real GDP growth will reach 4.3% this year, up from 2.7% in 2016, driven primarily by robust private consumption.
Amid a firmer trend of (partially EU-funded) investment, we forecast average annual real GDP growth of 3.4% in 2018-22.
Price pressures remain modest and we estimate that inflation will average 1.8% in 2017. The current-account deficit will expand moderately to 0.6% of GDP as stronger domestic demand pushes up import volumes.


Review


On September 25th Andrzej Duda, the president, proposed new, amended versions of the controversial judiciary laws that he vetoed on July 24th.
On September 11th-12th the Supreme Court and the Constitutional Tribunal clashed over whether the court had the competence to control the Tribunal.
On September 11th parliament's legislative bureau released an opinion supporting demands for Germany to pay wartime reparations to Poland.
During a visit to central and eastern Europe on August 23rd-25th Emmanuel Macron, the French president, made pointed criticisms of the Polish government, which he described as "nationalist" and "Eurosceptic".
In August retail sales grew by 6.9% year on year, after 6.8% growth in July.
Also in August industrial production (excluding construction) expanded by 8.7% year on year, compared with 6.3% in July. Construction grew by 22.6%.
In July the current-account deficit (non-seasonally adjusted) expanded by 67% year on year, to Zl 3.7bn (US$1bn), owing to a widening of the trade deficit.
Consumer price inflation rose by 0.1 percentage point year on year in August, to 1.8%. However, core inflation slowed by 0.1 percentage point, to 0.7% year on year.